Here's What Nike Said About Its Law Enforcement Appreciation Sale
Many critics are calling for a boycott of the brand.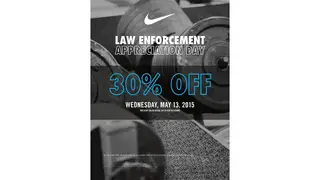 Nike stepped into a big pot of hot water this week in its celebration of Law Enforcement Appreciation Day on May 13, which coincides with National Police Week. Officers who showed their badges at the registers of Nike and Converse retail stores received 30 percent off of their purchases.
Amid police shootings in Black and brown communities across the nation, is honoring officers a wrong move? Critics say that the mega corporation's sale is tone deaf to the issues affecting those who are top buyers of their products: young men of color. Many took to Twitter with the hashtags #BoycottNike and #DontDoIt. 
"I support #BoycottNike because I'm feeling punitive. We can't punish killer cops. We can't punish the media who criminalize black corpses..." cultural critic Dream Hampton tweets. "But Blk ppl have had a long relationship w/Nike. And Nike said F**k Your Black Lives & your demands to not be slain. They can be punished."
Nike, however, is standing behind its sale, which it has been holding for more than 10 years.
"Nike has held discount days in its stores for first responders, including law enforcement and the military, since 9/11," Nike said in a statement. "Nike has no intention to offend anyone, nor to imply that we are insensitive to the serious and important issues between law enforcement and black communities in America. We care about and support efforts to continue discussions to create positive change and bring equality for everyone in our society."