DJ Khaled Talks Modeling For The New Savage x Fenty Valentine's Day Collection—We Have The First Look!
The music icon chatted with BET Lifestyle about love and how he's planning to surprise his wife on V-Day.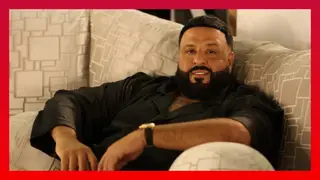 DJ Khaled wears many hats—including a Savage x Fenty model! The producer, record executive, and motivational speaker recently flexed his modeling skills for the new Savage X Fenty Valentine's Day collection, and we were given a first look at the iconic campaign photos.
"I've been trying to tell the world I wear a lot of hats. You see me in that robe," Khaled shares with BET Lifestyle via a Zoom chat. "I've got a modeling career ahead of me, you know."
The new collection, which is currently shoppable, features all your Valentine's Day essentials. Panties and bras? Check. Boxers and robes? Check. Lingerie and flirty accessories? Triple check!
Rihanna announced the release of her V-Day collection with a heart-pounding video showcasing her new lingerie.
"I want to thank Rihanna and Savage X Fenty for letting me be part of this campaign," Khaled shared with enthusiasm. "Rihanna is a visionary, and for her to give me the opportunity to wear the clothes, it was so dope and organic."
The musician continued, "I love that she lets me be myself. I promote to the world to always be yourself. She inspires me."
The new collection features V-day inspired underwear, sleepwear, loungewear, and sportswear ranging from XS–4X/XS–XXXXL, making the collection inclusive for all sizes and body shapes.
As for what DJ Khaled has planned for Valentine's Day, he revealed he's going all out for his wife, Nicole Tuck. "We're going to do it big, like always. [I'm going to] surprise my queen, the mother of my kids," he shared before adding, "I give her the world, not just on Valentine's Day, we do it all the time. That's how we do it."
On the topic of love, the "God Did" artist explained he's using his platform to spread good vibes and good energy to all.
"We should put love out there at all times. Anyone who knows me knows I've always promoted and shown love and tried to do the best things at all times to inspire and motivate. When I became a father, I felt like God said, 'I'm gonna show you another purpose. One of your purposes is to make the world better.' I don't want to sound like I'm preaching, but that's where I'm at with things right now."
He concluded, "If I'm going to be on this platform, that means there's a chance someone will read this, and hopefully they become inspired to come together and love each other. It's okay to be happy. Let's do big things together and help each other."
FYI: To shop the Savage X Fenty Valentine's Day collection, visit: savagex.com. Prices range from $16.95-$94.95 for Xtra VIP members ($12.95-$74.95 for non-VIP members).
Editor's Note: This story has been edited and condensed for clarity.