Anderson .Paak Responds To GoldLink's Mac Miller Post: 'Why Would You Even Do It?'
GoldLink is catching heat on all sides after he made some tone-deaf remarks in regards to the late rapper.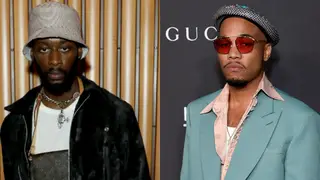 DC-bred MC GoldLink found himself embroiled in controversy on Tuesday (Nov. 26) amid a personal letter addressed to late rapper-producer Mac Miller. In an unexpected tribute to Mac, the "Crew" artist posted the letter to his Instagram page where he insinuated that the late rapper carbon-copied his music style.
The lengthy post starts with Goldlink speaking on his friendship with Mac as the rapper shares, "I'd be lying if I said I was surprised to hear that you died on us."

The letter continues describing the rockiness of their relationship when GoldLink reveals that him and Mac weren't always "on the best of terms" and admits that "[he] didn't always have great things to say about [Mac]." According to him,the source of their tension stemmed from what GoldLink perceived as similarities between his 2015 And After That We Didn't Talk LP and Mac's 2016 album, The Divine Feminine.

"I always thought you drove yourself insane about your own music. So much that, you would adopt styles as homage to those around you that you loved. That's where our problem started," he wrote, alleging that "Divine Feminine was an actual blueprint of And After That, We Didn't Talk."

"Your single was called 'Dang!' Ft. Anderson Paak...you had Soulection support you on the Divine Feminine tour and when I tried to contact you, about anything at all...you never hit me," heclaimed. "A close mutual friend ended up just hittin' my DJ saying 'Listen man, we love Link, but we just had to do what we had to do.'"

Ending the letter in a more positive tone, GoldLink expressed that he was ultimately appreciative of Mac being one of the first people to give his music a chance when he was just starting out in his career. Unfortunately, the damage was already done and many fans found his comments to be in poor taste given Mac's tragic passing in 2018. Others pointed out that he isn't here to defend himself either. 

A few hours later, hip-hop/ R&B maestro and close friend of Mac's Anderson .Paak, issued a strong rebuttal to GoldLink's comments in a since-deleted Instagram post. Condemning Goldlink for the post,  Anderson stated that he one-sidedly brought up Mac's name out of the blue in such a backhanded manner, which he felt was "disrespectful" and  "unnecessary."

"Why would you even do it, I can't understand it," he wrote "Maybe your belt was wrapped around your gotd**n waist to tight or maybe it was the choker cutting circulation off to the brain. But since you felt it necessary to bring me up twice and my boy ain't here to respond, ima say it like this." 

He continued, "You ain't the first to make an album inspired by a relationship, you ain't the first to make a song featuring Anderson .Paak. But you are the first to disrespect my friend who is no longer here for absolutely no reason and I can't stand for that….."if Divine Feminine was such a blueprint of your record then tell me where the plaques are for whatever your s**t was called!!"

"Whatever issues you had with Mac should have been addressed in person and ended there. What's the point of bringing this up after his passing and disrespecting his name? You really woke up feeling like that was the move?," the Oxnard native chastised. 

"Some things simply have nothing to do with you but when have a God Complex, I'm sure it's easy to think everything comes from you or was inspired by some way. Whatever it is, I ain't giving it no more energy," .Paak concluded in the closing notes of his response. 

Following the scorching post, Black Twitter didn't hold back their condemnation of GoldLink's remarks either. 

"The Divine Feminine was released in Sept. 2016; Mac passed in Sept. 2018," one person commented. "Goldlink had 2 years to address Mac if he felt he was ripped off in any sort of way, but instead waits an entire year after Mac's passing to type out a backhanded "letter" to Mac?"

In spite of the mounting criticism online, GoldLink has not yet addressed the backlash nor any clarifications to the post.