Jhené Aiko Finally Addresses Her Breakup With Big Sean
"I know you all love the drama and would like to think everything I do or say is about him…"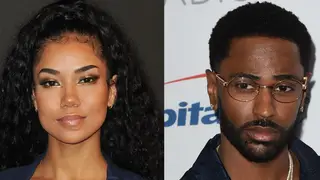 The (now-formerly) rumored split between California songstress Jhené Aiko and Detroit emcee Big Sean has remained a mystery of fans for a few months now.
It all started with a simple tattoo on the Trip singer back in May 2018, which was once a portrait of Sean's face, but was replaced with new ink that became part of a larger back tattoo piece. Thereafter, fans began to notice that the two were slowly but surely reducing public appearances, fueling more rumors of a breakup, despite neither of the two confirming a split. Jhené's melancholic "Wasted Love Freestyle" became all the affirmation fans needed, however, as the R&B etherealist sung heartbreak and emotional desolation on the December 2018-released track.
2019 only carried the speculation further after the Sean Don's first spotting of the year was inside of a paparazzi lens alongside his ex-girlfriend and pop songstress, Ariana Grande, in February. The photos of the former couple swiftly hit the internet, showing Ari sitting shotgun with her puppy inside of the I Decided rapper's car. Even still, no concrete answers on the whatabouts of his relationship were ever answered, leaving fans in search of the intricate details of their split.
They need not look any further now that Ms. Chilombo has finally addressed her relationship status with Sean and shut down the messiness all in one Shade Room visit.
The Instagram celeb gossip hub let fans onto the news that Jheneé was back cooking up new hits in the studio

And with such cryptic messages she left on her Instagram story posts, showing her busy at work in the lab, fans immediately assumed her new music could shed light on the unexplained breakup.

One fan even took it upon herself to alert Big Sean that "she finna snitch"...

To which Jhené responded to with an update. "Me and Sean are good," she wrote back. "I've got tons of love for him." She clarified that her next album will included several subject matters related to the relationships from different eras of her life as well. "I know you all love the drama and would like to think everything I do or say is about him," she continued, "but I've been through plenty of other things and situations that I pull inspiration from when I sit down to create a song." 

Jhené pleasantly sent the fan off afterward. 

Classy, Jhené! 

Read her first address to the breakup above.