Jordin Sparks Wants To See Chris Brown On 'Dancing With the Stars'
"It would be amazing," the 'American Idol' alum said.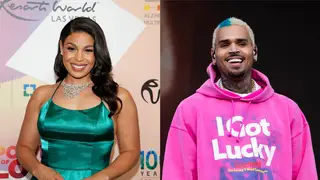 Jordin Sparks thinks that Chris Brown would be the perfect contestant on Dancing With the Stars!
After being eliminated from the dance competition show on Monday night (Oct. 1) the singer said that she would love to see the multi-talented artist compete for the mirrorball trophy one day.
"To see him [dance] ballroom? And then he would do contemporary and he'd just – he'd kill everything. It would be amazing," Sparks shared.
To which her professional dance partner, Brandon Armstrong, continued: "You dance on tour, you've danced with some of my homies. You're a bad boy but come on. Let's see you out in the ballroom floor. That would be nuts! That'd be nasty."
Sparks and Brown collaborated on their 2008 track "No Air" which was famously featured on the American Idol alum's self-titled debut album.
Earlier this year, Brown brought out Sparks as a part of the finale of his One of Them Ones tour to nostalgically perform the song. The surprise moment happened in Las Vegas on Saturday (Aug. 27) when the pair danced together on stage to sing the chorus as the crowd reacted to the classic moment.
Sparks took to Instagram to share how being a part of Brown's tour made her feel.
"15 YEARS LATER: [Chris Brown] and I returned to the stage to perform No Air," she captioned her post. "Thank you, Chris, for having me at the final stop of your 'One of Them Ones' tour, ended it with a bang in Vegas!!!"