Jordin Sparks Joins Chris Brown On Stage To Perform "No Air" For The First Time In 15 Years
The surprise moment happened during the finale of his 'One of Them Ones' tour.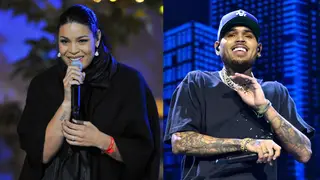 Chris Brown tapped Jordin Sparks to join him on stage as part of the finale for his One of Them Ones tour to perform a nostalgic duet of their track "No Air."
The surprise moment happened in Las Vegas on Saturday (Aug. 27) when the pair danced together on stage to sing the chorus as the crowd reacted to the classic moment.
Sparks took to Instagram to share how being a part of Brown's tour made her feel.
"15 YEARS LATER: [Chris Brown] and I returned to the stage to perform No Air," she captioned her post. "Thank you, Chris, for having me at the final stop of your 'One of Them Ones' tour, ended it with a bang in Vegas!!!"
Adding that "The crowd was lit!!! Loved hearing you scream every word of this song!!! My heart."
"No Air" was featured on her platinum-selling self-titled debut album. The track was released in 2007 and peaked at No. 3 on the Billboard Hot 100. A Grammy nomination would come soon after, with "No Air" being nominated for Best Pop Collaboration at the 51st annual Grammy Awards in 2009.