Nico Ali Walsh, Grandson of Legend Muhammad Ali, Wins Debut Boxing Match
The 21-year-old welterweight is apparently following in his famous grandfather's footsteps with a first round TKO.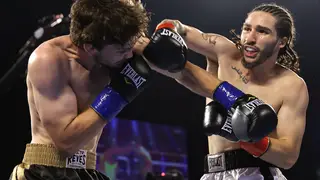 Nico Ali Walsh put on a show in the boxing ring Saturday night (Aug. 14) that would have made his legendary grandfather proud.
The 21-year-old middleweight grandson of Muhammad Ali won his debut professional fight with a first-round TKO of against Jordan Weeks at the Hard Rock Hotel & Casino in Catoosa, Okla. 
"Alhamdulillah for the victory! I'm blessed and honored to say that I continued history tonight. Thank you from the bottom of my heart to everyone that supported me! I brought my grandfather in the ring with me by wearing his shorts for the first and final time as a professional fighter. I'm more than proud to say: The Legacy Continues…," Ali Walsh said in an Instagram post.
Ali Walsh is the son of Muhammad Ali's daught Rasheda Ali Walsh. His grandfather, dubbed the greatest of all time, died in 2016. He was an Olympic gold medalist and a three-time world heavyweight champion.
The family's boxing legacy includes Ali Walsh's aunt, Laila Ali, who was a professional boxer from 1998 to 2007 and undefeated with a 24-0 record.
"I've never been able to escape my grandfather, no matter what sport I played," Ali Walsh told the New York Times. "I'm starting to embrace it. It's very hard to do, but you have to embrace the legacy, no matter what it is. Everybody becomes stronger when they embrace what they're destined to do."