Biggie's Legacy Lives On
It's been 26 years since we lost Biggie Smalls, but his legacy can live on just by doing these few simple things.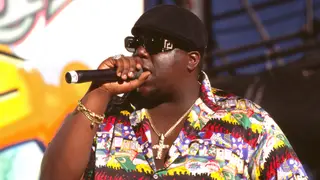 Thursday, March 9, 2023, marks the 26th anniversary of the loss of Christopher George Latore Wallace, also known as The Notorious B.I.G. The emcee behind "Mo Money Mo Problems" had his life cut short at the young age of 24. However, during his brief career, he released some of the greatest bodies of work in hip-hop history and left an indelible impact that would inspire several generations of emcees and artists. Therefore, in honor of the greatest emcee to have ever lived, we have compiled a list of seven ways to commemorate the life and legacy of the Notorious B.I.G.
Stream his music 

During his life, Biggie released two studio albums, his 1994 debut project, Ready to Die, a collaborative effort with Junior M.A.F.I.A. in 1995 titled Conspiracy, and his second solo and final body of work Life After Death, in 1997.

Two years following his death, music lovers were treated to several posthumous albums, including two compilation releases, Born Again and Duets: The Final Chapter, in 2005. In 2017 a collaborative effort with the first lady of Bad Boy, Faith Evans, was released titled, The King & I.  In August 2020, Biggie's son, C.J., released a house remix of his dad's smash record, "Big Poppa." In honor of his life, fans can stream that, and any number of the emcee's work is featured across streaming platforms.

Visit various murals/landmarks dedicated in his honor 

If you're a Biggie fan and happen to find yourself in New York City, be sure to visit the various murals dedicated to the legendary emcee, including arguably one of the most well-known "Comandante Biggie" murals in Fort Greene, Brooklyn, located above the Lafayette Avenue train station and created by artist Cern One in 2011.

A Coming to America-inspired tribute of the "Sky's the Limit" emcee can also be found in Prospect Heights at St. John's Place and Underhill Avenue. If you need a quick pit-stop for your Instagram shots, try visiting the intersection of Fulton Street and St. James Place, renamed  "Christopher 'Notorious B.I.G.' Wallace Way" in 2019. The rapper's childhood home is just a block away at 226 St James Place.

Canadian fans can check out the one in Toronto, Canada, done by artist Jessey (Phade) Pacho. You can also visit the Hip Hop Museum in NYC 

Watch films/documentaries about his life 

You can celebrate Big Poppa's life by learning about it thanks to various documentaries and biographical films released over the decade, including the 2009 biopic Notorious. The GeorgeTillman Jr.-directed film stars actor Jamal Woolard as the "Hypnotize" rapper and follows Biggie's journey to stardom. The movie also starred Academy Award-winning actress Angela Bassett as the emcee's mother, Voletta Wallace, Derek Luke as Sean "Diddy" Combs, Antonique Smith as Faith Evans, Naturi Naughton as Lil' Kim, and Anthony Mackie as the late Tupac Shakur.

In August 2020, Netflix released its documentary Biggie: I Got a Story to Tell. The project was executive-produced by Ms.Wallace and music mogul and longtime friend and collaborator, Diddy. It focuses on Biggie's  life before he rose to fame as "The King of New York" and features "unprecedented access granted by the Wallace estate."

Support Brooklyn Mint

Shortly before his death, the "Player's Anthem" emcee started a clothing line titled Brooklyn Mint, which focused on plus-size clothing. Efforts to revive the brand were made in 2004 in part by Biggie's former managers, Mark Pitts and Wayne Barrow. Apparel featuring Biggie's image was sold, and a portion of the proceeds was given to several charitable organizations, including the Christopher Wallace Foundation.

Some of the collection can still be found online and in stores like Walmart retailers. So in honor of the rapper's life, purchase an item of the late great emcee.

Support Christopher Wallace Jr.'s brand ThinkBIG 

Biggie was killed when his son Christopher was just five months old. The emcee shares his only son with legendary singer and songwriter Faith Evans. CJ has spent most of his life trying to understand the global impact his father had on a genre and culture and his responsibility to upkeep that story.

As a result, he created Think BIG, a social movement that "advocates for the safe use of cannabis through the development of new ideas, products, stories, research, and charitable projects that honor cannabis and hemp abilities to aid in personal expression, health, and wellness.

The brand's first release, Frank White, named after one of Biggie's aliases, featured several products, including pre-rolls, vapes, gummies, apparel, and more, sold on the company's website, as well as in pop-ups and select retailers.

Make the emcee a trending topic on social media 

Supporters of the late emcee can keep the discussion surrounding his music and legacy going on social media platforms like Instagram and Twitter by sharing posts about the late entertainer, links to some of their favorite records by him, and lyrics using hashtags like #longlivebiggie, #foreverBIG, #notorious, and many more.

Following his platform

Keep the legacy of Biggie Smalls alive and well by following his Instagram page @thenotoriousbig, where his estate shares clips and updates about the emcee. The account also shared fan-created content that honors the late legend.