Miguel Says "Sure Thing" Was Almost an Usher Song
Singer tells BET.com that his hit single almost wasn't his.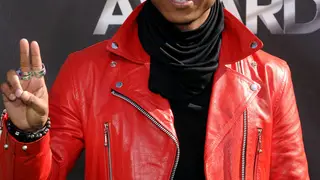 R&B singer Miguel's second single, "Sure Thing," is currently dominating the airwaves. But in an interview with BET.com, the singer reveals that the song almost made its way on to an Usher album.
"['Sure Thing'] made it to the ears of Mark Pitts over at Bi-Storm/Jive and at the time he was trying to finish Usher's project, which was the Here I Stand album. He wanted to use the song for Usher's project," Miguel says.
Luckily for Miguel though, his delivery on the record was so powerful, Pitts had a change of heart. "I guess he sat with it for a few days, for about a week or so, and he fell in love with the voice and wanted to meet the writer. He flew me out and we vibed. I went back home and a week later I flew back out and met all the A&Rs and the president of Jive at the time…and they wouldn't let me leave until I signed." 
The California-bred singer is currently on the road promoting his debut album, All I Want Is You.
(Photo: Kristian Dowling/PictureGroup)