White Detroit Cop Fired After Posting 'Another Night To Rangel Up These Zoo Animals' On Snapchat
Sean Bostwick had only been out of the police academy for two months.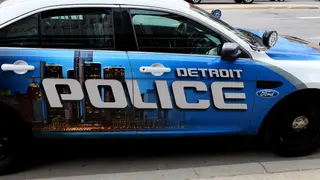 A Detroit police officer who only recently graduated from the academy was terminated after posting an offensive Snapchat post about "zoo animals."
Rookie Sean Bostwick, 27, posted a photo of himself to Snapchat on Saturday with a caption that read, "another night to Rangel [sic] up these zoo animals," the Detroit News reports.
During a news conference, Detroit Police Chief James Craig told reporters Bostwick is no longer with the department.
"This is his last day on our payroll," Chief Craig said. "Tomorrow, he will no longer be a Detroit police officer. He is clear on that."
Craig also emphasized that the officer's comment is "not reflective" of the department.
"We expect a high level of professionalism when we're serving the public," Craig added.
According to Craig, Bostwick immediately admitted to making the post and said he was apologetic.
"He took responsibility for it," Craig said. "He admitted that he did this. He said he didn't mean it the way it came off."
Bostwick had been out of the police academy for just two months, despite being on the force for roughly 18 months. He spent the bulk of his time in the academy due to low test scores, Craig said.
Although Bostwick showed remorse, Craig said the viral post sealed his fate.
"If you feel that way, you're not welcome here and we're not going to have any tolerance for this kind of behavior," Craig said.
The chief also spoke on the potential of Bostwick going to another department.
"I think any department that hires him will be concerned about this post," Craig told reporters. "I don't think any city would want to take a chance or risk, but that's between him and a potential employer."