Ariana Grande Brings Out Diddy And Mase At Coachella
The three paid homage to Biggie, Tupac and Nipsey Hussle in one of the most astonishing surprises Ari had in her pocket at #Arichella.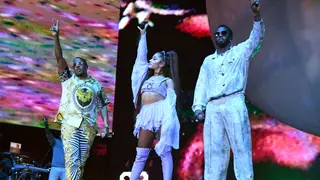 Weekend one of the summer's artsiest music festival, Coachella, kicked off on Friday (April 12) with this year's triple-threat headlining sets from music wunderkind Childish Gambino, psych-rock's Tame Impala, and pop princess Ariana Grande.
Along with the crowds, the music, the food and every eccentric festival look, the stage surprises are boundless and among the most dangerously anticipated for regular festival-goers every year. For her very first Coachella headlining experience on Sunday (April 14), Ari took it all into account and gave her Coachella-going Arianators a debut weekend to remember—dubbed #Arichella—with a handful of surprise acts from hip-hop's past they could never forget: Bad Boy Records icons Diddy and Mase.
The pair jammed out to a classic Bad Boy hit 'Mo Money Mo Problems' for their Coachella pop-up with Ariana

As fans' jaws dropped to the ground and shrieks rose into the night sky of Indio, California, for Ari's set, the Bad Boy duo rocked and raved the crowd. Timelier than ever, the 1997 hit also served as a tribute to hip-hop's fallen soldiers, the late Notorious B.I.G., Tupac, and two of hip-hop's newest angels, Nipsey Hussle and Mac Miller.

Earlier during the set, she also shook the stage with frequent hip-pop collaborator and Queen femcee Nicki Minaj and members of early 2000s pop star group NSYNC. The show couldn't have been more fitting for Ariana, a welcomed embracer and transcender of music's most sought-after culture who also recently appeared on 2 Chainz's Rap or Go to the League album. And for Arianators of the Twitterverse, it couldn't have been more iconic, either.

See their astonishment after the eventful #Arichella moments hit the internet on Sunday (April 14):