Kodak Black Has A Few Words For Kim Kardashian Amid Kanye West Controversy
He also has a request for Cardi B and the Jenner sisters.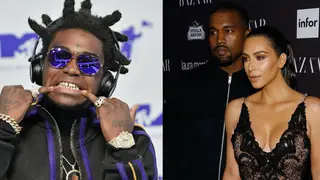 So, in light of all of his recent antics, 21-year-old Floridian emcee Kodak Black is shooting his shot at Kanye's, Kim Kardashian.
Via Instagram live, the "No Flockin" emcee even had words for Mr. West

Aimed for the reality star, he stated, "Listen Kim, if you tired of that f**k n***a Kanye 'cause he on some stupid sh*t, man f**k with me. F**k with a real Haitian boy." In other clips (below), he also asked to f**k Cardi B's sister, Hennessy, and Kendall and Kylie Jenner.

Kodak also admitted he can't smash Cardi because "he f**ks with Offset," her husband...

While Ye declared he was moving back to Chicago, rumors swirled about Kim making drastic decisions in terms of their marriage. Yet, despite reports from almost two years ago sending many into a frenzy, there are no current updates on the state of Kimye's marriage.