Savage: Lil' Rel Drags 'Hating A*s' Tracy Morgan For Slamming Tiffany Haddish
He had time, today.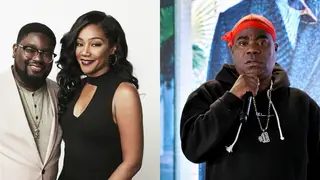 Tiffany Haddish's meteoric rise to superstardom wasn't welcomed with congratulations from all of her comedy forefathers. In fact, revered comic Tracy Morgan made it known that he wasn't the biggest fan of the funny lady, despite them working together on his latest venture, The Last O.G..
Now, since his harsh words from months ago went viral, Haddish's close friend and former co-star Lil' Rel is coming to her defense and brutally slams Morgan for speaking rudely of his sister in comedy.
The awkward moment in question dates back to May of this year when Morgan appeared visibly annoyed as Haddish was mentioned during his sit-down interview with Vulture.
When the interviewer asked him to share his thoughts on Haddish's rise, Morgan boldly interrupted him, saying, "We're not going to go there... Tiffany is not the only one. This is not Tiffany Haddish show. This is Tracy Morgan... This is The Last O.G."
In an attempt to justify his irritated nature, he added, "If you're going to ask about Tiffany, ask that about Cedric [The Entertainer]. Ask that about craft services... Everybody that comes to work on that show. We're not going to go there."
While Lil' Rel, most recently, expounded a bit more on his gripe with Morgan's comments and approach in an interview, himself, he did tweet about it after the interview aired in May.
Now, months later, in a preview for his Uncensored appearance, Rel revisits the incident and highlights why he chose to come to Haddish's defense.
"I don't have beef with Tracy Morgan, but I don't like the way he was treating my sister," he said. "I mean, just the anger he got just as soon as they mentioned her name... that arrogance of not being able to praise this beautiful, talented Black woman was disgusting."
Fans may recall that Lil' Rel and Tiffany Haddish once worked closely during their time on the former NBC sitcom The Carmichael Show.
Watch his full response, below: