Jonathan Majors Breaks Up High School Girl Fight
The actor saw two girls fighting near a Los Angeles high school.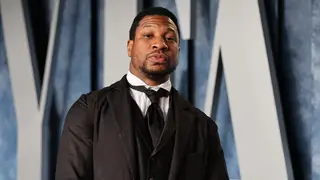 Jonathan Majors is addressing an incident in which he was filmed intervening in a confrontation between two high school students.
A video of the "Lovecraft Country" actor de-escalating the altercation between two young girls as others watched has been circulating online. This incident reportedly occurred at a nearby Los Angeles In-N-Out on Tuesday (Sept. 12th).
The 34-year-old told a  TMZ cameraman later that he advised the teenagers to stay out of trouble and "stay cool." When asked if his intentions were simply to lend a helping hand, the "Creed III" star responded with a simple "Yes" and clarified that he had no prior acquaintance with the two individuals.
The video comes just days after Majors' criminal trial for misdemeanor assault and harassment charges was delayed again.
Majors is facing four counts of assault and aggravated harassment after he was arrested in Manhattan after an alleged domestic dispute with ex-girlfriend Grace Jabbari. He has pleaded not guilty. A new trial date will be determined on Friday.