Second Suspect Arrested In Morgan State Campus Shooting
University officials canceled and postponed Homecoming festivities after the mass shooting.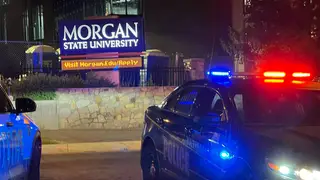 Authorities charged Williams with first-degree attempted murder and other charges.
"Today, the Morgan Community can continue to move forward with the comfort of knowing that both shooting suspects have now been captured and taken off the streets," Morgan State President David Wilson said, thanking several elected officials and law enforcement agencies involved in the investigation.
The shooting took place near the Murphy Fine Arts Center, where Mr. and Miss Morgan State University were crowned on the evening of Oct. 3. Investigators said the shooting stemmed from a dispute between two groups, and at least three people had guns. Four of the five shooting victims were Morgan State students. None of them suffered life-threatening injuries.
"They need to be more aware of their actions and how they affect others. People were traumatized, people were hurt, people will never forget," Morgan State student Yasha Barnhart told CBS Baltimore.
"It brands other people, it brands the school, it brands the city, it brands themselves and their families, and the actions that they took that night affected so much more people than just the person they were probably after."