Police Searching For Suspect Who Shot Five People at Morgan State Campus
Four of the victims were students who were wounded as Homecoming celebrations began at the HBCU.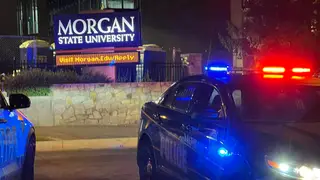 At least five people were struck by gunfire on the campus of Morgan State University in Baltimore Tuesday night (Oct. 3) as the HBCU's Homecoming Week festivities were getting underway. Police say a search is continuing to find the shooter and no suspect is in custody.

Morgan State Police Chief Lance Hatcher told reporters at an early Wednesday press conference that campus police officers were on patrol about 9:25 p.m., Tuesday and heard a gun discharge and found multiple victims at the scene. Emergency responders treated the victims, four males and one female, aged 18 to 22. Four of the five victims were Morgan State Students. None of them had life threatening injuries, he said.
The shooting took place as Morgan State was undertaking its annual Homecoming celebration. According to The Baltimore Sun, the shots were fired near the Murphy Fine Arts Center, where Mr. and Miss Morgan State University were crowned Tuesday evening.
Morgan State president David WIlson told reporters that as students made their way to the school's Student Center, gunshots began to ring out. He said that he has met with students and parents to ensure campus safety and that classes would be canceled on Wednesday as police continue to investigate. A shelter in place order was lifted Wednesday morning.
There were no reports that the incident was connected to Homecoming, but school officials "will be assessing what will happen for the rest of the Homecoming Week" as early as Wednesday morning.
Police believe that the shooting happened outdoors, but a window of one of the Morgan State buildings appeared to be shattered at Thurgood Marshall Hall on the campus.

The shooting was the third straight year a gunfire incident has taken place at the school during Homecoming, according to CBS Baltimore.

In 2022, a 20-year-old who was not a Morgan State student was shot in an unsanctioned Homecoming party. In 2021, an 18-year-old student was shot on campus after Homecoming celebrations.

"It's really sad actually, because this is our homecoming week," Ray Issy, a New Jersey sophomore, told The Baltimore Sun, concerned of what decision the school would make regarding Homecoming. "It's like, Bro, why can't we ever have anything nice?"

At the press conference, Baltimore Mayor Brandon Scott expressed frustration about the mass shooting and implored Congress to act to prevent more incidents like this from taking place.

"This unfortunate and unacceptable tragedy joins, as we know, a long line of colleges and schools around this country that have seen incidents like this," he said, "and it showcases again for all of us…that we are dealing with not just here in Baltimore, not just at Morgan State University but across this country, an epidemic when it comes to gun violence and it's time for us to get serious about that, not just at the local level, but at the national leve.

"We have to stop saying 'not one more.' We need action now," Scott said.