New York Enacts New Law To Protect Voting Rights
Named for the late civil rights hero Rep. John R. Lewis, the law prevents local counties from enacting rules that suppress the Black vote.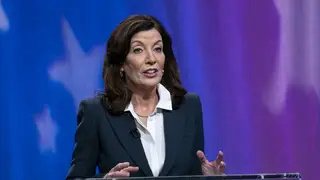 New York Gov. Kathy Hochul signed a new bill into law that makes the state one of the first to replace the preclearance process that the U.S. Supreme Court gutted from the 1965 Voting Rights Act.
"Today, we honor the work of the late Congressman John Lewis and activists like Medgar Evers as we make meaningful changes to our laws that enfranchise voters and ensure the voices of the people are heard in our democracy," Hochul, a Democrat, stated, as she signed the landmark John R. Lewis Voting Rights Act into law Monday (June 20) at Medgar Evers College in Brooklyn.
Under one of the key provisions, local election officials in "covered jurisdictions" across the state must get permission to change voting rules through a review process known as preclearance. The law applies to counties "with a history of civil or voting rights violations." The law seeks to prevent election officials from suppressing people's voting rights because of their race.
The justices ruled in Shelby County v. Holder that the cover­age formula used to determ­ine which juris­dic­tions are covered is uncon­sti­tu­tional because it is based on an old formula, suggesting that voter suppression is no longer an issue. The ruling made preclearance inop­er­able until Congress enacts a new cover­age formula.
That seems unlikely, as efforts to revive the Voting Rights Act have failed. In January, Senate Republicans and conservative Democrats Sens. Joe Manchin, of West Virginia, and Arizona's Kyrsten Sinema, blocked an attempt to change filibuster rules in order to pass a voting bill.
There's an urgency to pass a bill as Republican-led legislatures continue to pass measures that critics say chip away at voting rights. Several of those states, including Georgia and Arizona, are enacting restrictive voting laws targeting voters of color in time for the 2022 mid-term elections.
Voting rights activists have called on lawmakers to pass a federal John Lewis Voting Rights Advancement Act and the Freedom to Vote Act, which would remove barriers to voting, including allowing all voters to request mail-in ballots.