Watch: Laila Ali Explains Why She Doesn't Post About Black Lives Matter on Social Media
Here's what The Greatest's daughter had to say.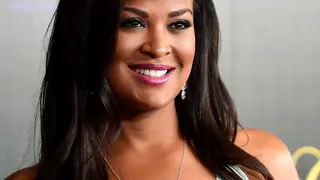 Laila Ali doesn't think logging onto her social media accounts to post about racial inequalities is a sufficient form of activism.
That's why the former boxing champion doesn't post about Black Lives Matter on Facebook.
"By me not posting, it doesn't mean that Black lives don't matter," she said on Huffington Post earlier this week. "To me, it's obvious that Black lives matter. And then ... I'm like, 'What is posting going to do? What is speaking out going to do?'"
But there's more behind Ali's decision to not post about Black Lives Matter, too.
The daughter of the late, great Muhammad Ali said that she doesn't want to alienate her sponsors and millions of Facebook fans.
"I don't ever like to make people feel separate," she said.
Laila added, "Yes, Black lives matter. Yes, white lives matter, Asian lives matter. All lives matter. And that's kind of what my focus is. But it's hard because, you know, you've got sponsors and you've got this and you've got that. And you don't want to step on anybody's toes. And you're trying to be politically correct, but at the same time trying to uplift your people."
Hmm...the internet isn't feeling her on that part, with many evoking the social contributions that her father made and the human rights he fought for.
Watch Laila make her full statement on Huffington Post below.
What do you think about her not fully speaking up about racial injustices to protect her sponsorships?
BET Sports News — Get the latest news and information about African-Americans in sports, including weekly recaps, celebrity news and photos of your favorite Black athletes.