EXCLUSIVE: Tupac Shakur's Sister Speaks On the Arrest and Indictment of Shooting Suspect
Duane "Keffe D" Davis is the first person ever arrested and charged for the 1996 fatal shooting of the rapper.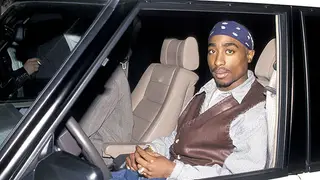 One of the biggest mysteries in hip hop may finally be solved.
Officials announced earlier today (September 29) that Duane "Keffe D" Davis" was arrested and charged in Las Vegas for the fatal drive-by 1996 shooting of rapper Tupac Shakur. 
Shakur's sister, Sekyiwa 'Set' Shakur exclusively tells BET.com in a statement that she is happy to see the light of justice prevail in the first-ever arrest in the murder of her brother.
"This is no doubt a pivotal moment. The silence of the past 27 years surrounding this case has spoken loudly in our community. It's important to me that the world, the country, the justice system, and our people acknowledge the gravity of the passing of this man, my brother, my mother's son, my father's son. His life and death matter and should not go unsolved or unrecognized, so yes, today is a victory but I will reserve judgment until all the facts and legal proceedings are complete. There have been multiple hands involved and there remains so much surrounding the life and death of my brother Tupac and our Shakur family overall. We are seeking real justice on all fronts."
A Nevada grand jury has now indicted Davis on one count of murder with a deadly weapon and recommended that up to an additional 20 years be added to the sentence for the murder charge because of his known gang affiliation.
Davis, 60, is said to be one of four suspects who were there the night Shakur was killed. Davis snitched on himself, admitting in his 2019 memoir, "Compton Street Legend," that he was the one who provided the gun in the shooting, prompting investigators to look even further into the story and singling him out as a potential suspect. While they do not believe he is the shooter, there is enough evidence to indicate that he was involved on the night Shakur was shot and killed while riding in the passenger side of Marion "Suge" Knight's car, waiting at a red light on the Vegas strip.
"For 27 years, the family of Tupac Shakur has been waiting for justice," said Clark County Sheriff Kevin McMahill at a news conference on Friday, as reported by the Associated Press.
"While I know there's been many people who did not believe that the murder of Tupac Shakur was important to this police department, I'm here to tell you that is simply not the case."