MF Doom's Wife Raises Questions Over Hospital Care Her Husband Received Before His Death
The legendary rapper passed away in October 2020 at 49.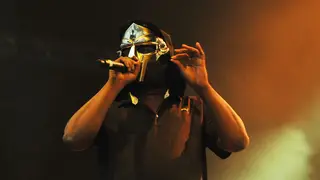 The cause of MF DOOM's death may be getting a second, as his wife is raising concerns over the care he received before he died.
According to LeedsLive, the 49-year-old British-born rapper's wife, Jasmin Thompson, spoke out against her husband's treatment at St. James Hospital in Leeds, England. During a recent inquest hearing, she explained that the facility's staff's negligence of her husband's needs contributed to his worsening condition. She also says that he could not when he attempted to summon help because his buzzer was not within reach.
DOOM's final days were initially shrouded in mystery and concealed from the public. Later, it was revealed that he died due to side effects from taking ACE inhibitors.
The hip-hop legend reportedly ingested two doses of blood pressure medication that he had been prescribed and as a result, had a severe reaction called Angioedema that swelled his lips, tongue, and throat.
LeedsLive reports that Thompson noted that St. James Hospital staff could not access his medical records because they were stored in London. She also says that at one point, DOOM (born Daniel Dumile Thompson) called her because he was struggling to breathe before having to set up a separate phone call to inform a nurse of the immediacy of the situation.
"I don't want to say it was an old storage room … it wasn't set up," Thompson told Wakefield Coroner's Court, according to LeedsLive. "Maybe it was a room a long time ago. It did have a bed in it."
The medics said the unit was functional and part of their emergency department.
"I was not able to see him until the 31st [of October] – that's when the respirator was turned off that was helping him breathe," Thompson added, noting she wasn't allowed to visit her husband due to the restrictions of the COVID-19 pandemic.
MF DOOM passed away on October 31, 2020; however, news of his passing didn't come until months later. Thompson confirmed the legendary rapper's passing via a Rolling Stone report.