Lil Wayne Gets Items Thrown At Him During His Set At A Recent Show
The rapper threatened to leave if it continued.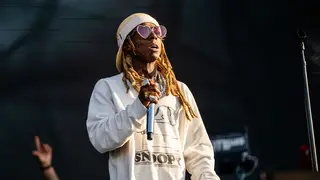 Unfortunately, this trend where fans throw trash at artists continues as Lil Wayne has become the latest victim of this treatment.
A viral clip has surfaced on social media of the Young Money founder stopping mid-performance after having items thrown at him on stage, threatening to end his show early.
"This my first song," the rapper began.
"If a n***a gonna be throwing s**t at me, I ain't gonna do another song and I'll get my a** right up out this muthaf****a. It's called respect. So like I said, if a n***a gonna be throwing s**t at me, then I don't respect that person. If you know who that was that threw that s**t, tell him I said f**k him and suck on a muthaf**kin d**k. "You little p***y b***h! Throwing flags at me - n***a, that s**t ain't even real, f**k wrong with you? P***y muthaf***a, let's go!"
Last month, Kid Cudi fell victim to this after being pelted with debris in the face during his Rolling Loud Miami performance.
"I will f*****g leave," he expressed to the crowd. "If I get hit with one more f*****g thing—if I see one more f******g thing on this f*****g stage, I'm leaving. Don't f**k with me."
In lighter news, Weezy is set to release Tha Carter VI after taking the stage during the Young Money Reunion show at Drake's October World Weekend festival.
"I'm working on Carter VI, coming soon!" he shared before a giant sign with "Tha Carter VI" was unveiled on a screen on stage.