Young Money Reunion Concert: Lil Wayne Teases 'Tha Carter VI'
It's official, new music is on the way!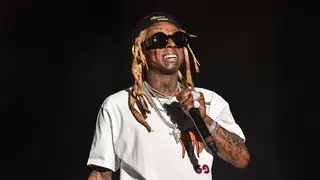 Rapper Lil Wayne is back with new music and teased that his forthcoming album Tha Carter VI is releasing soon after taking the stage during the Young Money Reunion show at Drake's October World Weekend festival.
According to Complex, the artist hit the stage on Saturday night (Aug. 6) at Toronto's Budweiser stage and shared the announcement with the crowd.
"I'm working on Carter VI, coming soon!," he shared before a giant sign with "Tha Carter VI" was unveiled on a screen on stage.
Back in July 2020, Wayne first shared that he would be dropping his next Tha Carter project in an interview with Variety, "My favorite Carter album is the next one," and later chatting with ESPN's Michael Eaves to which he shared that the next Carter project was "coming soon."
It's been four years since the Louisiana-bred artist dropped a Tha Carter album with Tha Carter V released in 2018. He then unveiled his thirteenth studio album Funeral on Jan. 31, 2020.