Rosario Dawson Recalls Embarrassing Herself in Front of Prince
This story is too good.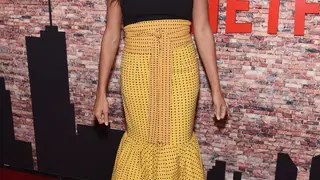 As fans, collaborators and celebrities alike flooded the timeline purple and reflected on his legacy, Rosario Dawson also shared a personal little anecdote where she admits she made a fool of herself in front of the late legend.
While appearing on Live with Kelly on Friday, the actress recalled that she was 19 when she first met Prince, adding that their first interaction was definitely one she'll never forget.
"I was in Chicago shooting a movie and he called me direct," Dawson reflected. "[He] said, 'You're the voice of a generation; I want you to do this monologue I've written for my 1999 remix album! You must come to Paisley Park.'"

Unfortunately, Dawson recalls that the experience didn't unfold how she had hoped it would.
"I completely embarrassed myself, as you do when you're like meeting someone who you're completely in love with," the actress admitted. "[H]e…had a limo pick me up with white shag carpeting…I closed the driver [partition] and I was like, "Yeah, I'm — just gonna rummage around.' And of course, I was wearing all black, so I walked out covered in white fuzz. And soon as he saw me he was like, 'Um-hmmm.'"
According to Dawson, Prince then insisted that they have a little jam session before getting down to business and having her do her monologue for him.
"I was like, 'I, I really can't play anything!' and he goes, 'Oh come on, everybody can play something,'" she continued." And he's like: 'DRUMS.'"
She then laughs and said that it wasn't long after she started playing that the late icon changed his mind.
"[I]f you listen to the '1999' remix…it's a brilliant thing that he wrote, but it's probably the worst acting I've ever done, because the entire time, I was like, 'I just disappointed Prince. In Paisley Park.'"
Take a listen to Rosario Dawson hilariously recalling the first time she met Prince in the video below.