Unboxed Vol. 3: The Boykinz Blended Country & R&B For Viral TikTok Smash 'Girls Night'
The Quartet, made up of sisters Kylan, Anale, Nytere and Alona, recently got a huge co-sign from a country music legend.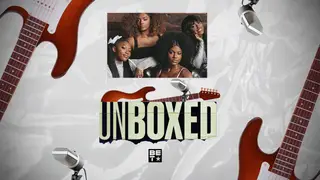 Unboxed is a new BET.com series highlighting Black artists who think 'outside of the box,' when it comes to their music.
The Boykinz, four sisters hailing from Snellville, Georgia, have taken the music world by storm with their one-of-a-kind country-meets-r&b sound. With powerhouse vocals and unapologetic cowgirl attitudes, these sisters have amassed a devoted fanbase over the past decade. But it was their latest hit, "Girls Night," that truly shot them into the spotlight and made them TikTok royalty.
Everything about the line-dance track and The Boykinz buttery smooth harmonies just felt unique. The overnight sensation of the track even allowed them to perform with country music icon Shania Twain on The Kelly Clarkson show. Interestingly enough, The Boykinz are pulling all of this off while being full-time students.
Speaking with BET.com, The Boykinz talk about getting the moment of a lifetime, discuss their journey and even give recommendations for Black country artists.
BET.com: You all were recently on The Kelly Clarkson Show and got a huge co-sign from Shania Twain. Do these moments make you all feel as if you have arrived?
Nytere: Meeting Shania Twain was such a dream. It just felt like more of a blessing.
Anale: We felt flabbergasted using law school words. As Nytere said, it was a dream. Like is this really happening right now? So surreal. We thought it was a setup. Like somebody stop the camera.
Kylan: That moment was so exciting and so surreal. We kept looking at each other like we got to be on it. We're here for a reason. We're blessed to even have met her and even in that little moment, we've learned so much about unison and being one. It was amazing and it left me speechless.
BET.com: Everything about your song,  like Girls Night, have a grand country sound but those harmonies are R&B. How large is the spectrum of musical influences that make up The Boykinz?
Kylan: We call our sound country infused. We mix it with some soul, hip-hop, pop, rock and r&b. Some of our inspirations are The Chicks, Destiny's Child, Shania Twain and The Judds.
BET.com: Can you recall your musical journey as sisters from getting together to eventually releasing "Girls Night?"
Alona: I would say the journey is awesome. Having my sisters, I wouldn't have anyone else but them to be in a group with and making these songs. "Girls Night" is just something that's made us so happy. I see us in the next years becoming the greatest stars ever. Doing it with my sisters is a beautiful ride and I just want to keep going.
Kylan: We've been a group for the past 10 years since Alane was five and me as the oldest for a decade. We would be singing around town at everyone's church, senior homes, Boys and Girls Club, community events and even some festivals. We just hopped on TikTok last year and we were literally being ourselves from our hats to our dance moves from the outfits. It sparked up something that has been there all along but now we're starting to pursue it and it's within country music. We've been developing the sound with different producers out of Nashville and Atlanta.
BET.com: You mentioned being on TikTok for around a year. How friendly has that platform been to Black artists who make music outside of the box in your opinion and what was the strategy to get the most out of the platform?
Nytere: For us, I can say it's been a good ride, man. The fans love what we do. They love the hats, they love the gear. It's been really fun. I feel like people love that we're being ourselves. They can connect to that and to represent the underrepresented. They appreciate it.
Anale: Getting on TikTok to finally just express ourselves felt natural. Ever since the pandemic, we made the decision to just go out there and do what we love. I guess the decision to do it there was perfect.
Kylan: When we started TikTok, we created a little schedule that we would post at least three times a week because we're college and high school students. We had to find a balance to do what we love and still be in school. We just stayed consistent and in about three weeks, we started to blow. I mean there are different algorithms for different people for different reasons. I think people were just drawn to what we brought to the platform which you really didn't see at all. These Black women in cowgirl hats, gear and dancing. We're very inspired by animation and we're theater babies. We infused our theater aspect in our performance and people were drawn to that and the consistency.
BET.com: Should we expect the "Girls Night" video and some new music soon?
Nytere: The music video is in the works and we're working towards our EP coming soon. "Girls Night" is going to be on it as that's our line dance record. We want people to have fun and to feel themselves. A lot of our music will resemble some of that but infused with some pop and hip-hop elements.
BET.com: Outside of your music, do you have any personal recommendations for Black country singers that readers should check out?