Feds Say They Will Not Pursue Criminal Charges In Death of Shanquella Robinson
Her family has pleaded with President Joe Biden to push for an extradition of Robinson's killer.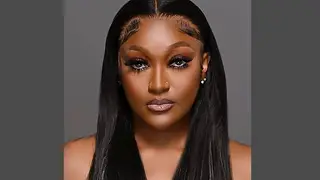 Federal prosecutors have announced that they will not bring charges in the death of Shanquella Robinson, the Charlotte woman who died during a trip with friends to Mexico last October.

In a statement released Wednesday (April 12), the U.S. Attorney's Office in North Carolina's Western District said its officials had met with Robinson's family and shared with them that they did not find sufficient evidence to pursue a federal criminal case.

"...Given the circumstances of Ms. Robinson's death and the public concern surrounding this investigation, it is important to reassure the public that experienced federal agents and seasoned prosecutors have extensively reviewed the available evidence and have concluded that federal charges cannot be pursued," the statement from U.S. Attorney Dena King read.
Robinson, 25, who had traveled to Mexico with six friends from college—four women and two men—was discovered unconscious on October 29. The group was staying in a rented tourist property in San Jose del Cabo, in Baja California Sur, more than 1,000 miles south of San Diego. Her family said that the friends told them that she had died of alcohol poisoning. However, a video went viral on social media showing Robinson being attacked by someone on the trip with her. It is not clear when during the trip the video was taken, or if Robinson's injuries resulted in her death.
Attorneys Benjamin Crump and Sue-Ann Robinson (no relation) represent the Robinson family and released details of an autopsy performed by medical examiners in Mexico, which determined that the cause of death was "severe spinal cord injury and atlas luxation," a type of severe neck injury.
However, in a Mecklenburg County, N.C. Medical Examiners' report released Wednesday, forensic specialists said they found no evidence of any such injury, contradicting the Mexican report.

"No fractures are seen on the posterior of the spinal column," the report written by forensic pathologist Dr. Thomas Owens said. "There is no evidence of any disruption of the spinal column alignment or subluxation (partial dislocation).
"Based on the history and autopsy findings," the report goes on to say, "it is my opinion that the cause of death in this case is undetermined." However, Owens also wrote that there was a hematoma (serious bruise) of the forehead, consistent with blunt force trauma; a cerebral edema (swelling of the brain) whose cause is undetermined; and a hypoxic ischemic injury consistent with hours of blood or oxygen being cut off from the brain.
The FBI launched an investigation into Robinson's death in November 2022, and an arrest warrant was issued by Baja California Sur Attorney General Daniel de la Rosa for Daejhanae Jackson, who was one of the people who traveled with Robinson on the trip. However, no such extradition has taken place, and it is not clear if it will ever happen. Prior to Jackson being publicly named, De la Rosa called Robinson's attacker a "direct aggressor."
False reports began to circulate in December that Jackson had been arrested, but they came from unreliable online sources.
Crump joined Robinson's family in writing a letter to President Joe Biden calling for the extradition of Robinson's killer to Mexico. If unable to do so, the family requested that the U.S. Justice Department assume the case.
"In our letter to President Biden and Secretary Blinken, we clearly stated that one of two things needs to happen: either the U.S. extradites Shanquella's killer to Mexico or the U.S. takes jurisdiction of the case and her killer is prosecuted here," said Crump in a statement. "Inaction is not acceptable in this case. Shanquella's family deserves swift justice for her death."
There's no evidence that any extraditions will take place, and De la Rosa's office has yet to announce one. The State Department has said it is closely observing the local authorities' inquiry. In a response to a query from BET.com, the agency says it does not respond to information requests concerning extradition.

But according to the DOJ, when one U.S. citizen kills another in a foreign country, while it is a criminal offense, there are statutory limitations and also discussion between the Justice Department and U.S. State Department. The Attorney General must determine that the killing took place in a country where the suspect has left and that the country cannot pursue extradition. It is unclear if King's office felt that Robinson's death fell outside of this criteria. The statement provided indicated that the investigation could reopen if new information were presented. 
At a Wednesday press conference, Sue-Ann Robinson said the family was "disappointed but not deterred" and invoked the families of Ahmaud Arbury and Sandra Bland, who sought other means of pursuing justice after being disappointed by prosecutors. "We're going to continue to press on," she said. "We're going to continue to demand that there's a high level of diplomatic intervention in this case, that if the U.S. authorities are again telling us, 'oh, it's back on Mexico…we don't have a problem with that, we know that we have to carve our own path to justice and we've been doing that from the very beginning."

Meanwhile, social media erupted in disgust over the latest development. Many feel that those who traveled with her should be held accountable and brought to justice. Most of all, the collective sentiment is that the U.S. government has simply failed the Robinson family.
Editor's Note: This story has been updated.