Woman Who Claims Herschel Walker Pressured Her To Have An Abortion Releases Voicemail Messages
"This is your stud farm calling," one of the messages said, according to the woman's attorney.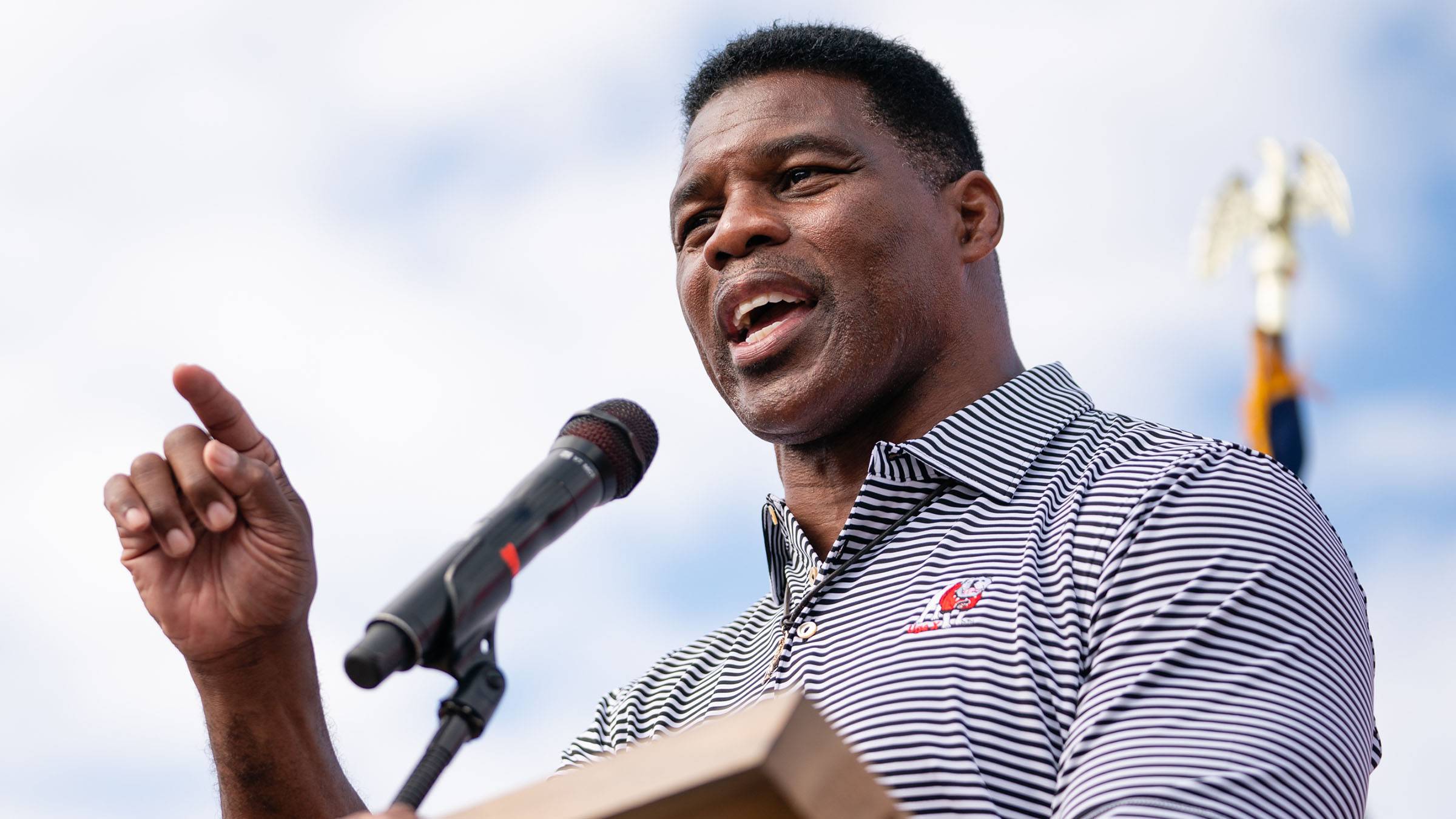 One of the women who accused Herschel Walker of pressuring her to get an abortion has come forward with new evidence.
Last month, the woman, who hasn't released her name but has appeared on camera, said in 1993, Walker pressured her to terminate her pregnancy in Dallas, Texas. She claimed they began a romantic relationship in 1987 while Walker was married. In 1993, Walker was married to Cindy DeAngelis Grossman.
Walker said the woman was lying, but at a Nov. 22 press conference, according to PEOPLE, attorney Gloria Allred, who represents the woman, played voicemails that she claims were from Walker. In the recording, a man is heard saying, "Ah you, this is your stud farm calling, you big sex puppy, you. Can't believe you're not in. I will talk to you later, you be sweet. Bye bye."
Allred also played an audio clip with voices that sounded like Walker and the woman saying "I love you" to each other.
Allred also read a letter from April 1993 that Walker supposedly wrote. "First, I'd like to say Happy Easter. I wanted to say how I feel about [Jane Doe]. Sorry I didn't talk to you two when you were in Dallas, my problem is going slow, I don't want to say anything that is wrong," the letter read.
"I didn't want you two to think I'm a joke. I know now if you two are to understand, I have to say something. I do love your daughter, and I am not out to hurt her. She has been a strong backbone to me through all of this. She has not done anything wrong. If you two think what I'm doing is wrong, I will withdraw until I am out of this mess. I am sorry if I have put your family through so much. … I do love your Jane. I will always."
Allred said at the press conference, "We have overwhelming evidence which supports the relationship between my client and Herschel Walker, including letters, audio recordings, diaries, cards, notes, photos and a declaration from a friend."
She continued: "We are here today to challenge Mr. Walker. Mr. Walker, do you have the courage to meet with Jane Doe, look her in the eye, and tell her that you do not know her? That you never told her how much you loved her? That you never met with her parents, or wrote them a letter, in your own handwriting in April 1993? That you did not make phone calls to her, telling her how much you loved her when you were at the Olympics in 1992? Mr. Walker, do you deny that it is your voice on the following audio recordings?"
On Oct. 4, The Daily Beast reported that Walker allegedly paid for another abortion in 2009. The unidentified woman later claimed she was the mother of one of his children. Additionally, Walker's 23-year-old son Christian Walker blasted him on social media, accusing him of violence and being a liar.
Walker is challenging Georgia Sen. Raphael Warnock, which goes to a runoff on Dec. 6. Although Warnock has received more than 30,000 votes than Walker in the Nov. 8 election, neither was able to get more than 50 percent of the votes. According to Georgia election rules, without 50 percent, a runoff is triggered.