Colorado Woman Alleges Police Failed To Respond In Time To Husband's Deadly Kidnapping
Talija Campbell says she went to the location of the suspected kidnapping of her husband Qualin when it appeared that authorities saw no urgency.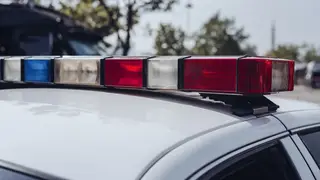 A Colorado woman is demanding answers and accountability, claiming that Colorado Springs authorities failed to respond timely to her 911 call about a suspected hostage situation in which her husband was found dead.
Talija Campbell said she called 911 just after 1 p.m. on Friday (June 2) after her husband, Qualin Campbell, texted his location and a photo of a man sitting next to him in his car, CBS News reports. He followed that message with a second text saying, "911" and "Send Please!"
But officers with the Colorado Springs Police Department, located about a mile away from the location Campbell texted, responded to a report of a shooting in that same location at 2:09 p.m., where they found two deceased men. One of those men, according to Campbell's attorney, was her husband.
According to Campbell, she told a 911 dispatcher that she believed her husband was taken hostage and described his car and location. But that dispatcher transferred the call to a second 911 dispatcher who covers Colorado Springs.
After the first dispatcher gave the second dispatcher a briefing on the situation, Campbell told the second dispatcher what she knew. The second dispatcher said an officer would investigate but there was no sense of urgency, Campbell said.
Instead of waiting, Campbell said she went to the location her husband, a father of two, texted to her. Upon arrival, she noticed her husband's company car in the parking lot. Her husband was slumped over and bleeding inside the vehicle alongside another man with a gun on his lap.
"I shouldn't have been the one there, the first person to respond," she said, according to CBS News.
Campbell's attorney Harry Daniels released details Monday (June 5) about the case.
"The Colorado Springs Police Department and El Paso County can make all the excuses they want, but the facts are simple. This was a hostage situation where Qualin Campbell was begging for his life, his wife called 911, the police were less than a mile away but they never responded. Let's be clear. If the police don't respond to a hostage situation, none of us are safe," he said, according to local station KKTV.
Colorado Springs police declined on Monday (June 5) to answer KKTV's questions about the "active investigation" but said information is available to the public on its blotter post.