Joe Budden Apologizes Over Comments About Megan Thee Stallion
He called his remarks "careless."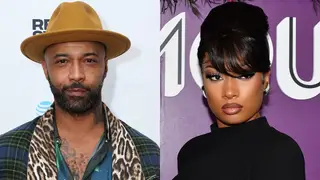 After receiving a heap of backlash from social media, Joe Budden is apologizing for his "careless" remarks about Megan Thee Stallion.
During a new episode of The Joe Budden Podcast on Wednesday (December 21), the rapper-turned podcast host apologized to the Houston rapper, who is currently having to deal with the fallout of Tory Lanez's assault trial, citing phone calls he received from women he admires who took him to task.
"I'm apologizing to Meg," the Mood Muzik rapper said at the 19-minute mark. "Meg, the people that love her, her handlers, her team, the people that have to support her through what has to be an exhausting trial. I listened back. I got a few phone calls from women that I love and appreciate and admire."
He continued: "I'm apologizing for the careless manner in which I joked about her mental health … That's not funny, because whether you believe her or don't believe her, can you afford to be wrong? The answer is no."
Budden's original comments were made on his podcast during last week's episode. He spoke about Lanez's ongoing criminal trial, which accuses him of shooting Megan in the foot several times. He also expressed his disdain with DJ Akademiks during a lengthy discussion.
"I've seen this woman do horrible things to some really great people that I have [a] longstanding relationship with here in this industry, so I'm biased," Budden said at one point during last week's podcast. "You can't just treat my friends, and people I fuck with, and people I've seen in this game for 15 years a certain way."