[Watch] ABC News Hosts Laughed at Black Politician Who Warned of Trump's Nomination
Keith Ellison is kind of a prophet, but nobody took him seriously.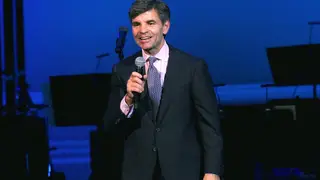 Last July, Keith Ellison, the Democratic U.S. Representative for Minnesota's 5th congressional district, warned ABC News that Donald Trump was a very real threat to win the Republican primary. The show's hosts laughed him off, but no one is laughing now, except maybe Donald Trump himself.
Ellison warned George Stephanopolous and New York Times reporter Maggie Haberman of Trump's growing momentum months ago. "People terrified of the possibility of President Trump better vote, better get active, better get involved," he said prophetically. "Because this man has got some momentum, and we'd better be ready for the fact that he might be leading the Republican ticket," he said.
Stephanopolous and Haberman responded with a hearty laugh, "I know you don't really believe that," the host responded.
In many ways, this approach by the media to laugh at Trump and dismiss his candidacy is to blame for his success. Now that he is the presumed Republican presidential nominee, it is crucial that those who oppose him take him seriously and work hard to make sure we don't see Trump laughing at us from the White House.
Catch up with Trump's latest success with What's at Stake: