All The Grammys Snubs, As Told By Twitter
Here's who should have been nominated according to fans.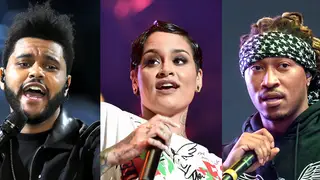 The 2018 Grammys nominations have been announced, and there are quite a few familiar faces on the list. Jay-Z, Kendrick Lamar, Bruno Mars, and more made the cut this year, but there are still some artists that the Twitter community would have liked to see acknowledged for their projects.
According to many Twitter users, they felt as though Future was snubbed of a number of nominations, including Best Rap Album for FUTURE and Song of the Year for the viral track "Mask Off." And while Kehlani was able to nab a nomination for Best R&B Performance for her retro single "Distraction," the Academy failed to throw her album,  SweetSexySavage, in the mix for Best R&B Album.
Fans also took offense to the absence of Vince Staple's Big FishTheory, Demi Lovato's Tell Me You Love Me and A Tribe Called Quest's We Got it From Here… Thank You 4 Your Service. They also think that The Weeknd's Starboy should have been thrown into the talk of Album of the Year. 
Even with the snubs however, the Academy managed to include a lot more diversity in its nominations pool this year. In addition to featuring a number of hip-hop artists in major categories, this is the first year a white male was not nominated for Album of the Year in the last 19 years. 
Twitter Users Have Some Opinions About Who Should've Gotten A Grammy Nomination...