Bronny James Out For USC Season Opener Due To Heart Defect
The standout freshman suffered a cardiac arrest in July and it was discovered that he had a congenital heart defect.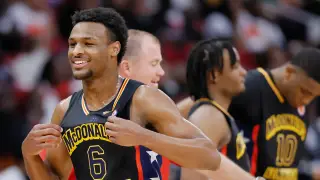 After being diagnosed with a congenital heart defect in August, USC freshman Bronny James was not available to play in the team's season-opening 82-69 win against Kansas State University on Monday (Nov.6) night, CBS News reports.
Although he was not playing, Bronny was seen on the sidelines during the game cheering on his teammates and being active in team huddles wearing a gray sweatsuit.
At a post-game news conference on Monday night following the Los Angeles Lakers game against the Miami Heat, LeBron James shared Bronny's current status.
"Things are going in the right direction with Bronny's progress," LeBron James said. "He's done with rehab. Every week, he gets to do more and more and more. We have a big — a big — moment at the end of the month to see how we can continue to go forward."
"If he's cleared, we'll be not too long away from him being back on the floor and back with his teammates and practicing with the notion of being back on the floor and playing in game situations," LeBron James added. "Everything's on the up and up."
During halftime of the game, Savannah James who was in attendance with her son Bryce James,  also gave an update on Bronny's health status.
"It's very important to us to show support to all of the kids, and obviously Bronny is not playing tonight, but we wanted to show support to the rest of the young men who have worked all summer to get ready for this point," Savannah James said to the Associated Press. "We know Bronny is anxious to play, but he will have his comeback soon and then we'll be here to actually watch him on the floor. But we're a USC family and we want to make sure that we're here to support Bronny, as well as the entire team."
Bronny's health issues first took place during a workout at USC where he suffered a cardiac arrest in July. According to the report, Bronny was treated at the scene before being transported to a local hospital.  A few days later, he was released from the hospital.
In August, it was revealed that Bronny's cardiac arrest was caused by a congenital heart defect.
After the 21-ranked Trojans win, USC coach Andy Enfield spoke about Bronny's impact on the team as player and person.
"Bronny is a terrific basketball player, but he's even a better person and his family has been so supportive," Enfield said. "To have Savannah and his family here, that meant a lot, meant a lot to everybody. ... If you watch him or know him throughout his high school career and now into college, all the limelight, he handles it so well and he's so humble and just a terrific person to coach."