Sen. Kyrsten Sinema Censured By Arizona Democratic Party For Failing To Support Voting Rights
Sinema joined Republicans in preventing the Freedom to Vote: John R. Lewis Act from passing into law.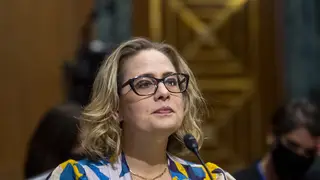 After refusing to make changes to the Senate's filibuster rules to help pass voting rights legislation, Arizona Democrat Kyrsten Sinema has been rebuked by her party.
On Saturday, the Arizona Democratic Party's executive committee voted to formally censure Sinema for her "failure to do whatever it takes to ensure the health of our democracy."
"I want to be clear, the Arizona Democratic Party is a diverse coalition with plenty of room for policy disagreements, however on the matter of the filibuster and the urgency to protect voting rights, we have been crystal clear," Arizona Democratic Party Chair Raquel Terán said in a statement. "In the choice between an archaic legislative norm and protecting Arizonans' right to vote, we choose the latter, and we always will."
Last week, Sinema and Senator Joe Manchin (D-West Virginia) joined all 50 Senate Republicans in refusing to lift the 60-vote filibuster threshold, preventing the Freedom to Vote: John R. Lewis Act from passing into law. The bill would have solidified voter protections by mandating at least 15 days of early voting, expanded mail-in ballots, and made election day a national holiday. While Senate Democrats have vowed to pass some sort of voter protections, bills aimed at suppressing the vote have already passed in several jurisdictions across the country.
According to the Brennan Center for Justice, 19 states have passed nearly three dozen bills aimed at making it harder for people to vote, and with the Senate failing to act, even more measures to restrict the vote will be on the way.
In her remarks from the Senate floor, Sinema said while she supported voting rights legislation, she would not move to change the filibuster rules, claiming that doing so would cause more division.
"While I continue to support these bills, I will not support separate actions that worsen the underlying disease of division infecting our country," Sinema said. "The debate over the Senate's 60-vote threshold shines a light on our broader challenges."
The Arizona Democratic Party has put Sinema on notice, and there is growing interest in finding a candidate who can run against her in 2024. Emily's List, a group that supports female candidates, also threatened to pull their endorsement of Sinema if she did not vote in favor of voting rights legislation. 
RELATED: Reclaim Your Vote

"If Sen. Sinema can not support a path forward for the passage of this legislation, we believe she undermines the foundations of our democracy, her own path to victory and also the mission of Emily's List, and we will be unable to endorse her moving forward," Laphonza Butler, Emily's List President, said in a statement.
After the Senate's failed vote, Arizona Congressman Ruben Gallego — who many have called on the challenge Sinema in the next election — vowed to work to elect Democrats "who support voting rights and defeat the ones who don't."
"I'm disappointed by the failure of the Senate to move the John Lewis Voting Rights Act. But I'm not giving up & neither should you," he tweeted. "Let's work hard to elect good Democrats who support voting rights and defeat the ones who don't — in 22 and beyond."