Manhunt on for Ferguson Police Shooter
Two officers were shot during a rally outside police department.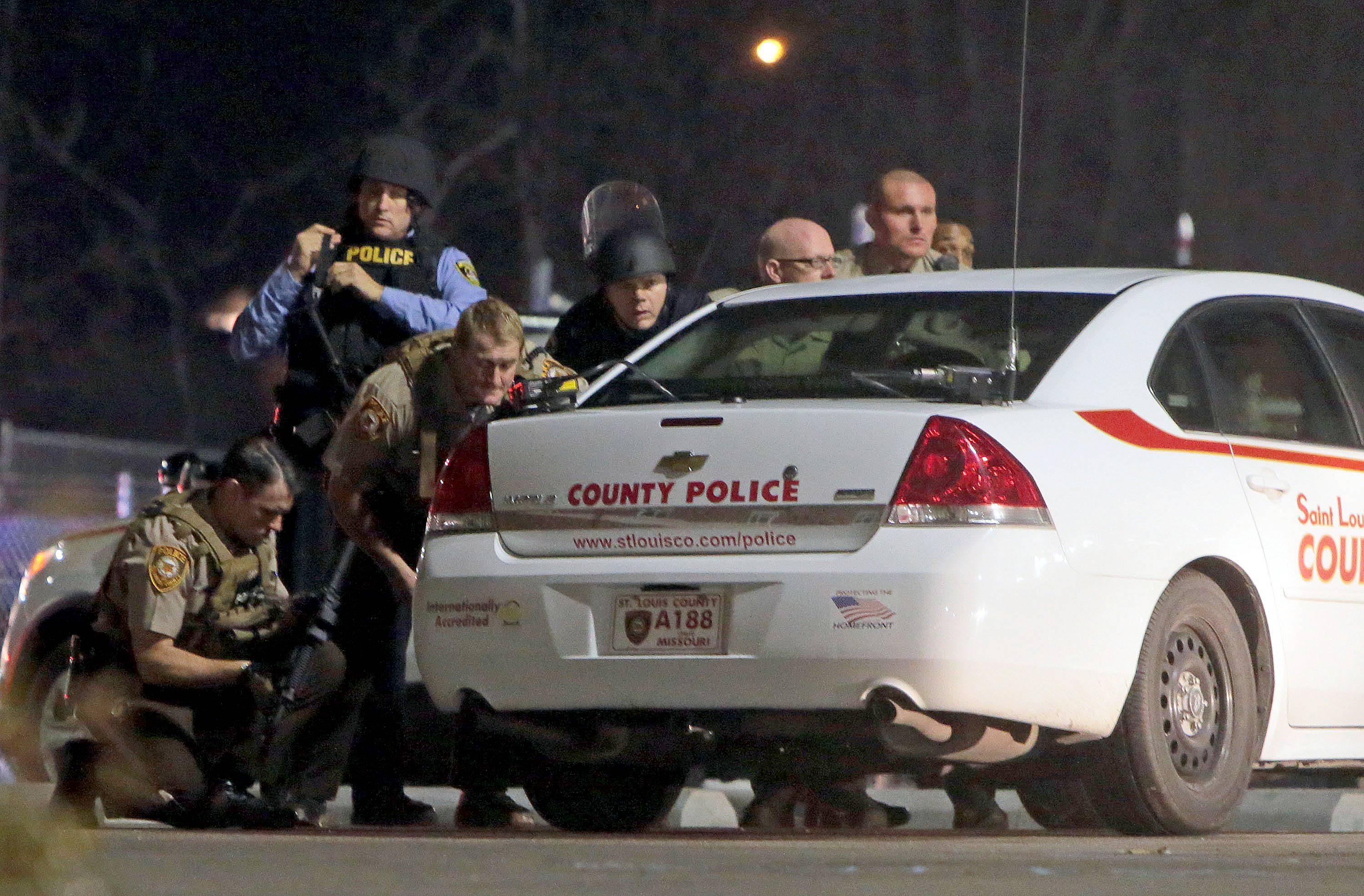 The city of Ferguson, Missouri, is once again making headlines after two police officers were shot as a demonstration was winding down Wednesday night. One officer, from the St. Louis County Police Department, was hit in the shoulder; the second, who serves on the police force in Webster Groves, was also shot in the shoulder. Both were released from the hospital early Thursday afternoon and a hunt is now on for the gunman.
The shots rang out from a hill a short distance from where the protesters had been peacefully gathered. It is unclear whether the person or persons involved had been part of the demonstration. St. Louis County police chief Jon Belmar is calling the attack an ambush, the Associated Press reports, and said that the shots could have been fatal.
"This is really an ambush," he said. "You are basically defenseless. It is hard to guard against."
The officers had been standing outside the city's police department, where dozens of protesters had gathered to react to the news that Ferguson police chief Thomas Jackson had announced "with profound sadness" that he was stepping down. In the week since the Justice Department released a scathing report highlighting a systemic bias against African-Americans and violations of their constitutional rights uncovered during its investigation of the police department's patterns and practices, the city manager and Municipal Court judge also have resigned.
Attorney General Eric Holder condemned the shooting, calling it heinous, inexcusable and repugnant.
"Such senseless acts of violence threaten the very reforms that nonviolent protesters in Ferguson and around the country have been working towards for the past several months. We wish these injured officers a full and speedy recovery," he said, citing other recent assaults on police officers. "We stand ready to offer any possible aid to an investigation into this incident, including the department's full range of investigative resources.  And we will continue to stand unequivocally against all acts of violence against cops whenever and wherever they occur."
Benjamin Crump, an attorney representing the family of Michael Brown, said the slain teenager's parents also condemn the shootings, but noted that most of the protesters who've rallied since their son's fatal shooting last August do so peacefully.
"There may be a few people who are misguided or confused, but in large part the majority of the protesters and the majority of Americans want justice," Crump told CNN.
Finding the individual(s) responsible is now the "No. 1 priority of the St. Louis County Police," Belmar told reporters.
BET National News - Keep up to date with breaking news stories from around the nation, including headlines from the hip hop and entertainment world. Click here to subscribe to our newsletter. 
(Photo: AP Photo/St. Louis Post-Dispatch, Laurie Skrivan)