Music Legend Prince Dead at 57
Music legend Prince reportedly found dead on Thursday (Apr. 21).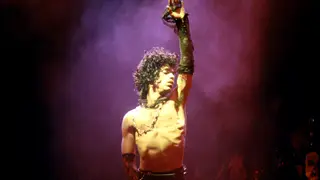 After reports began swirling about a death at his Minnesota estate, Prince has been reported dead by TMZ. A medical emergency was attended to on Thursday morning at Paisley Park, citing that the "57-year-old had been battling a bad bout of flu." The singer was hospitalized last Friday (Apr. 15) after an emergency landing of his private plane in Illinois. The singer also canceled a number of appearances ahead of the most recent health scare. 
Just days after his hospitalization, Prince held a dance party at his home, according to a flyer he posted on his Twitter page of the event. "2 GIVE THANX 4 THE GOOD WEATHER AND 4 ALL THE LOVE AND SUPPORT…," the singer captioned the photo on his page.
The details of his hospital visit were not divulged to the public. At the spread of the news of the fatality at his home, the name of the deceased was not confirmed immediately. TMZ also previously reported that Prince had been battling the flu.
He was born Prince Rogers Nelson on June 7, 1958. A music legend in his own right, Prince will undoubtedly be mourned by fans of music and culture alike. He sold over 100 million records worldwide.

UPDATE #1: Prince's publicist released a statement following his passing, calling him a "legendary, iconic performer:" 
UPDATE #2: According to the Associated Press, Prince was found at the elevator of his studio, and CPR was administered unsuccessfully:

(Photo: Michael Ochs Archives/Getty Images)