Safaree Samuels Reveals Why He Left 'Love & Hip Hop: LA' For New York
He's officially packing up his furs and gold chains.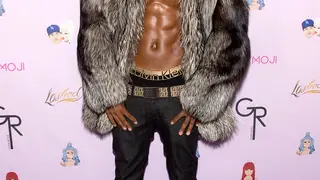 For two seasons, Safaree Samuels has brought fur, gold chains and eggplant shots to Love & Hip Hop: Hollywood. Now, he is going back to his roots. 
The 36-year-old Brooklyn native joined the cast of Love & Hip Hop: New York. He exclusively told InTouch, "I'm very excited. I was down in LA and paying attention to my surroundings and like, 'I need to move back to New York. I need to be back home, I need to be around my friends, my family, and people that have really known me. So I decided I want to move back to New York."
It'll be interesting to see how Safaree will mesh with cast in New York. He already has some people on his side, like Remy Ma, who shouted him out on the Nicki Minaj diss track "Shether." However, this is L&HH so some drama is sure to come. Other additions to the upcoming New York season are singer Lil' Mo and rapper Felicia "Snoop" Pearson.
For more on L&HH cast members, watch BET Breaks, above.