Mike Vick Is Getting Destroyed for Saying Colin Kaepernick Should 'Cut His Hair' to Get an NFL Job
"Ignorant a** advice."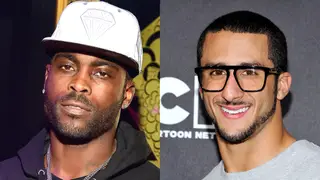 While appearing on FS1's Speak for Yourself  yesterday, the former NFL quarterback said that Colin Kaepernick should "cut his hair" to rebuild his image enough to get a job in the league.
"First thing we got to get Colin to do is cut his hair," Vick said on the show. "Listen, I'm not up here to try to be politically correct, but even if he puts cornrows in it, I don't think he should represent himself in that way in terms of just the hairstyle. Just go clean cut. Why not? You're already dealing with a lot of controversy surrounding this issue. The most important thing that he needs to do is just be presentable."
So, in other words, Vick thinks that Kaepernick's hair is preventing him from landing another NFL QB gig and not because the league wants to make an example out of Kaep because of his highly woke social activism? Oh, Mike Vick!
It's easy to understand why the retired NFL star is being destroyed for his take on Kaepernick with zero chill.
Did Mike Vick really fix his face to say that Kaepernick needs to 'cut his hair?'

The dragging came instantly.

People channeled the late, great Prince to let Vick know that he's wrong

Hey, Colin, whether a fro or cornrows, do you. We have zero complaints and neither should an NFL team.

After hearing Vick's comments, people let Kaep know that they love him just the way he is

Yes, his generosity. Talk about it!

With Vick making the comments alongside Jason Whitlock, people couldn't resist saying that the former QB is tap dancing out here

Fans kept it funky in saying that Vick's advice to Kaepernick was hot garbage

And just for the record, people complained about Kaepernick's image when he was clean cut and well before his national anthem protest

Back then, it was his tats as a starting QB in the NFL. GTFOH!

We hate that it had to be you giving that terrible advice, Mike

Damn! Mike was hit harder here than he ever got hit on the football field. Don't ever come for Kaep.

Kaepernick probably caught wind of what Vick said based on the IG post he made on Tuesday morning

Kaepernick for the win! Hold this L, Mike Vick.

Vick later attempted to clean up his statement about Kaepernick with this tweet ...

But it was too late. The damage was already done. And Vick had been thoroughly dragged by then.