St. Louis High School Shooting Leaves 3 People Dead, Including Suspect
Six others were reportedly injured after a shooting Monday morning at Central Visual & Performing Arts High School.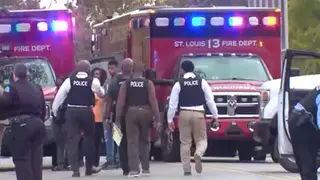 At least three people were killed, including the suspect, and six others injured following a shooting Monday morning (October 24) at Central Visual & Performing Arts High School in south St. Louis.
The injuries of the six physically affected ranged from gunshot wounds to cardiac arrest, authorities say.
The male suspect has not yet been identified but is estimated to be in his 20s. He was shot inside the school and pronounced dead at a hospital. It is unclear if he had any connection to the school, or what his motive was. But one survivor heard him say he was "tired of everybody," the Post-Dispatch said.
The shooting was reported just after 9 a.m. Police say that there were seven security workers on site, however it isn't clear how the shooter got inside the building even though the doors were reportedly locked. The building has metal detectors and is staffed by security.
The Post-Dispatch reports that math teacher David Williams said the school principal came over the loudspeaker around 9 a.m. and said the code phrase that indicates a school shooter was in the building. He adds that he heard multiple shots outside his classroom, and one of the windows on the classroom door was shot out. He then heard a man say, "You are all going to (expletive) die." At one point the shooter's gun jammed, giving students enough time to run.
Nylah Jones, a ninth grader at the school, said she was in math class when the shooter fired into the room from the hallway but couldn't get into the classroom. She added that students piled into the corner of the room and tried not to move as the shooter banged on the door.
By 9:30 a.m., the entire area was blocked off by police, ambulances and a SWAT van. Hundreds of evacuees reportedly gathered outside the school after running out with their hands up.
Police and public officials held a news conference Monday morning to announce they are investigating. They were joined by St. Louis Mayor Tishaura Jones and Rep. Cori Bush.

"To be here for such a devastating and traumatic situation breaks my heart, especially as a mother. I'm heartbroken for these families who send their children to our schools hoping that they will be safe," said Jones, who thanked police and school workers who helped keep students safe. "Our children shouldn't have to experience this- they shouldn't have to go through active shooter drills in case something happened and unfortunately that happened today."