Meghan Markle Visits Memorial For Texas School Shooting Victims
A makeshift memorial outside the Uvalde County Courthouse honors the 19 students and two teachers killed on May 24th at Robb Elementary School.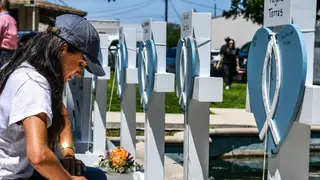 Meghan Markle made a surprise and a somewhat under-the-radar visit to Uvalde, Texas, to express her condolences following the tragic elementary school shooting that left 19 students and two teachers dead.
According to TMZ, Markle, who reportedly traveled from Montecito, CA, paid her respects by leaving a bouquet of white roses at the makeshift memorial outside the Uvalde County Courthouse.
The memorial honoring the names of Robb Elementary School students and faculty bordered a square pond that displayed white crosses with blue hearts for each victim of the horrific May 24th shooting.
The New York Times reports that state police identified the alleged shooter as 18-year-old Salvador Ramos, who had been a student at a nearby high school.
According to Texas Governor Greg Abbott, the suspect shot his grandmother before abandoning his vehicle and entered Robb Elementary with a handgun and possibly a rifle.
Elementary with a handgun and possibly a rifle, according to Texas Governor Greg Abbott.
Officials say they have learned the shooting took place in one fourth-grade classroom. It is reported that Ramos barricaded himself in the room while trying to flee from police and opened fire on all the children inside. Abbot confirmed that the police killed Ramos. At least one officer was struck in the gunfire exchange.
Several celebrities have voiced their opinions on the Uvalde shooting, urging for change and stricter gun laws. NBA superstar LeBron James posted on Twitter moments after the school shooting and shared his condolences.
"My thoughts and prayers goes out to the families of love ones loss & injured at Robb Elementary School in Uvalde, TX! Like when is enough enough man!!!," he wrote in a tweet.
"These are kids and we keep putting them in harms way at school. Like seriously "AT SCHOOL" where it's suppose to be the safest!"
Adding, "There simply has to be change! HAS TO BE!! 😔😔😔😔🥺🥺🥺🥺.. Praying to the heavens above to all with kids these days in schools. 🙏🏾🙏🏾🙏🏾"
The Uvalde shooting is the second deadliest school shooting in U.S. history. It comes nearly a decade after a shooter, identified as Adam Lanza, 20, opened fire at Sandy Hook elementary school in Newtown, Conn., killing 28 people, including himself and his mother prior.