Meet Eric Whitehead, The Luxury Car Dealer Who Has the Keys to Success
Looking to the future is how this luxury car dealer stayed on top in the industry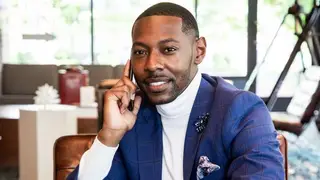 An entrepreneur is one of the many hats Eric Whitehead wears. As owner and CEO of PTG365, Prices Too Good 365, a luxury car dealership, he is an automotive specialist and master of convenience. Whitehead is a young millennial who's created a $10 million business through his passion for luxury vehicles and innovative thinking. Mulatto, 50 Cent, T.I, Gucci Mane, and Keyshia Ka'oir Davis are just some of his celebrity clients.
PTG365 offers an expansive range of vehicles, from luxury to everyday, and although the dealership has a physical location they can deliver cars to your doorstep. As Whitehead expands and rebrands his business, he wants to give advice to others who want to explore similar paths of entrepreneurship.
BET.com had the pleasure of interviewing Whitehead. Here's what he had to share:
BET.com: What's the inspiration behind PTG365?
Whitehead: I've always had a passion for cars since I was young, especially exotic and luxury cars. In high school, I had a mentor who was a finance director in the auto industry and he was successful. At 17, I started selling cars and made about $100,000, which changed my life. I was always an entrepreneur and had the drive to be my own boss. I wanted to do something to create a legacy for my family.
BET.com: What was the process of building PTG365 and did you have any setbacks?
Whitehead: Others see successful people and only see the product of their labor. They don't consider the hardships that go into building a business. I go through trials and tribulations every day because I have to learn so many things on my own. I don't have someone advising me or helping me through the process of owning my own dealership. When I worked for employers, I didn't have to worry about the operations of running a business and I loved it. But it dawned on me that I was working hard for someone else's dream instead of my own. As an entrepreneur, I put one hundred percent of my energy into myself. You always have to remember your goals and that there is always a light at the end of the tunnel.
Bet.com: How are you revolutionizing the car industry?
Whitehead: Technology is quickly advancing and you cannot fall behind in any industry. Being futuristic allows my business to stay ahead of the curve and adapt to the times. For instance, I started my business delivering cars to people's doorsteps with a red bow tied around it. I was ahead of the curve and when the pandemic hit and people didn't want to come into the dealership, I continued my model of delivering cars to people's homes and allowing clients to virtually communicate with us. I also developed an app called Cars365, which provides digital auto sales from the comfort of your home and phone. It's also an auto concierge service. People don't remember to upkeep their vehicles, so I developed a system for my app that stores every detail of your vehicle—interest rates, down payments, plate renewal dates, VIN numbers, and more. You can also store your driver's license, title, insurance card and vehicle contracts. My app simplifies the process of buying and owning a car and it's free.
Bet.com: How are you balancing the responsibilities of being an entrepreneur?
Whitehead: I created the idea of PTG365 and included my former associates, Brandon Medford and Dave Obaseki. You become comfortable when you have others accountable for parts of a company. Now that I'm not working with those guys anymore, it's more difficult because I have greater responsibilities. I'm restaffing and restructuring the business, while also balancing my personal life—I'm engaged now and booked on different television shows. I try to work smarter and not harder and appreciate where God is taking me. I eat healthily and stay hydrated so my brain can focus. I'm not afraid to ask for help and I'm a strategic thinker. These are traits that help me learn so much and take care of everything day after day.
Bet.com: What are three tips you would tell young Black people who want to start and maintain a business?
Whitehead: Firstly, the process is 80 percent mental and 20 percent physical. The hardest part about starting a business is focusing your mind on the goal. Once you focus on the task at hand, the execution of your business becomes easier. On your journey, you will lose friends and family. People's intentions will not always be pure and they will have many motives. But it's okay to isolate yourself from any negativity and focus on your goals. Gaining and maintaining success will be difficult, but don't give up.
Secondly, you have to learn how to be the best you can be and show up every day. Read a lot of books and stay tuned to what's relevant in the world. Follow podcasts, videos and shows about business and news. These things can take you to the next level.
Lastly, networking is key, because people can't run a business on their own. Some people like to boast about being "self-made", but you're never self-made. From cleaners and drivers to business partners, there are always people helping you along the way.