Drug Deal Likely Sparked Gun Violence After Denver Nuggets Win
The shooting took place in downtown Denver, a mile away from the Ball Arena where the Nuggets just won their first NBA championship.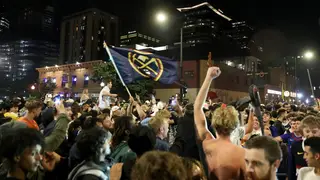 A shooting in downtown Denver as fans celebrated the Nuggets' first NBA championship win was due to a drug deal gone bad, CBS News reports.
The shooting left 10 bystanders injured, including 22-year-old suspect Ricardo Miquel Vazquez, who fled on foot before he was arrested by police. He was charged with possession of a weapon by a previous offender and possession of a controlled substance.  Another suspect, Raoul Gottfried Jones, 33, was also arrested on a charge of possession of a weapon by a previous offender.
Dr. Eric Campion, a trauma surgeon at the Denver Health Medical Center, said that four of the five victims admitted to the hospital underwent emergency surgery and are currently in fair condition.
"We were able to rapidly triage these patients, identify which were the most seriously injured, and get them rapidly to the operating room," Campion said.
At a news conference on Tuesday (June 13), Chief Ron Thomas said that 20 rounds were fired at the scene, about a mile from Ball Arena following the Nuggets' defeat of the Miami Heat Monday (June 12). Officials discovered five handguns at the scene that will require further testing to determine if they were the same weapons used at the shooting.
"Certainly does appear to have been a drug nexus," Thomas said. "There were quantities of cash, there was a large amount of drugs."
Commander Matt Clark noted that investigators found cash along with a "significant quantity" of what is believed to be fentanyl pills.
"While we know some of the offenders were injured by gunfire, we also know that several innocent people who were in the area were hit by rounds that were fired," Clark said.
One witness to the shooting, Scott D'Angelo who was live streaming the post-game events, recalled hearing numerous loud pops that caused instant chaos as the crowd ran for cover and said he felt "kind of numb" after the horrific incident.
"To target somebody, and indiscriminately shoot innocent bystanders, even trying to think about it, it's like — I have…a lot of feelings that I really can't explain," he said.
Doug Schepman, a spokesperson for the Denver Police Department, said that the shooting happened roughly three-and-a-half hours after the game where the biggest crowd gathered.
"Such a great event was marred by some senseless acts of violence," said Armando Saldate III, Denver's executive director of public safety, at a news conference.
"It was a very chaotic scene. I've seen a lot of command posts in my 30 years in this business and this was one of the more chaotic scenes.