Morehouse Commencement Speaker Robert Smith Makes An Incredible Promise To Every Member Of The Graduating Class
The billionaire changed the lives of 400 students in an instant.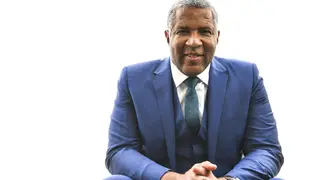 Morehouse College's 2019 commencement ceremony took place on Sunday (May 19), and keynote speaker Robert F. Smith made an epic announcement during his address to the graduates.
Smith revealed that, via a grant, he's wiping out the student debt of the entire class.
The billionaire tech entrepreneur's surprise donation was relayed in front of nearly 400 graduating seniors, and officials believe his grant will total $40 million.
"My family is going to create a grant to eliminate your student loans," Smith said, according to WXIA-TV. "You great Morehouse men are bound only by the limits of your own conviction and creativity.
"When Dr. King said that the 'arc of the moral universe bends toward justice,' he wasn't saying it bends on its own accord," he continued. "It bends because we choose to put our shoulders into it together and push."
Smith founded Vista Equity Partners in 2000 and during the past two decades has built the firm into a billion-dollar enterprise by investing in technology and software around the world.
"Technology is creating a whole new set of on-ramps to the 21st-century economy, and together we will help assure that African Americans will acquire the tech skills and be the beneficiaries in sectors that are being automated," Smith stated during his address.
Along with his speech, Smith received an honorary degree from Morehouse. He is a graduate of Cornell University and Columbia Business School and is the largest private donor to the National Museum of African American History and Culture in Washington D.C.
He was also the first and only Black business leader to sign "The Giving Pledge," in which wealthy individuals pledge to give more than one-half of their wealth to causes such as poverty alleviation, disaster relief and global health and education.
Looks like this $40 million will be a part of the latter. What an amazing gesture to ensure the students start their post-graduate lives unburdened.
The 400 Morehouse students and their families weren't the only ones thanking Robert Smith. See social media's reaction to the incredible endowment below.