Student Loan Payments Are Back After 3-Year Pandemic Era Hiatus
More than 28 million borrowers will have their payments resume in October.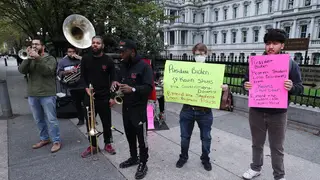 After a three-year pause in payments due to the economic hardships brought on by the coronavirus pandemic, student loan payments were reinstituted on Sunday (Oct. 1), The Hill reports.
Despite pushback from borrowers and student-loan advocates, more than 28 million borrowers will have their payments reactivated.
"It's a sad day for student loan borrowers and for the country that student loans have to come back on, especially with the threat of a looming government shutdown, potentially on the same day. It's just wild," said Natalia Abrams, president and founder of the Student Debt Crisis Center.
In protest of student loan payments being resumed, some borrowers are going on a "student debt strike" by "refusing to make payments as a way to show their discontent with the system."
Jacob Channel, a senior economist and student loan repayment expert at Lending Tree noted that missing payments could have many negative ramifications including interest continuing to accrue.
"There could be situations here potentially because you're not making your payments, the value of your loan is increasing because it's collecting interest, so you will owe more money," Channel said. "The credit bureau takes that into account, and maybe your credit score gets dinged a little bit."
As one of the pledges that was made during the 2020 campaign, the Biden Administration announced the Saving on Valuable Education (SAVE) plan, to aid borrowers with their repayments. Payments are determined based on income and family size. Borrowers with an annual income of $32,805 for single households or $67,500 for a family of four could qualify for $0 payments.
"The SAVE plan is a lifeline if you're able to get on a $0 payment, and we have worked with some borrowers, especially older borrowers on Social Security" to get on that plan," Abrams said.
Also, the Administration released an "on-ramp" repayment plan that "allows borrowers to miss their monthly payments for the next year with fewer consequences than before" and the  Department of Education will not put borrowers "in delinquent status if they miss payments, garnish their wages or send them to debt collectors."
Initially, President Joe Biden attempted to forgive student loans for all 45 million borrowers for at least $10,000 but his plan was struck down by the Supreme Court in June.
Republicans, who are in favor of resuming student loan payments, argued that the Biden administration would have left borrowers in an even worse financial position with delays and unfulfilled promises,
"This conversation distracts us from the core problem, which is making student loan money too easy, which causes tuition to rise and does not address what's needed, which is that colleges need tough love to end their addiction to tuition," Adam Kissel, a visiting fellow in the Heritage Foundation's Center for Education Policy said.
To address the student loan crisis, the Department of Education announced the rollout of a plan through the Higher Education Act.
The department will attempt to offer some relief to borrowers who have been paying for decades, repayment decades ago; borrowers who now owe more than they originally borrowed, borrowers who didn't apply for programs they are eligible for, those with financial hardship cases, and those who matriculated in schools where they didn't receive equitable financial value.