Candace Parker Discusses the 2023 WNBA Season And The Role That Sports Can Play To Empower Communities
The WNBA legend and NBA analyst has partnered with Muscle Milk to build a fitness court for one community based on fan votes.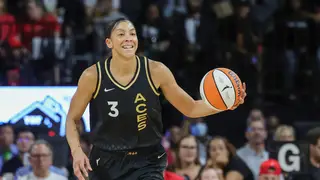 In the world of basketball, Candace Parker is often called one of the greatest players of her generation. She came to national prominence as a star of the Tennessee Lady Volunteers where she was named a two-time consensus national player of the year. She led the Lady Vols to two consecutive national championships (2007, 2008), and was named the Final Four's most outstanding player both times. She also was the first woman to dunk in an NCAA college game,
Drafted by the Los Angeles Sparks in 2008, Parker became the first WNBA player to win both the Rookie of the Year and the Most Valuable Player awards in the same season. She led the Sparks to the WNBA title in 2016 and also was named the WNBA Finals MVP Award. In 2021, she helped the Chicago Sky win their first title in her debut season with the team.
Now in her 15th season, Parker signed with the defending champion Las Vegas Aces who are the current front-runners to win the championship.
Over the course of her career, the six-time All-WNBA team member is a two-time WNBA Most Valuable Player Award winner (2008, 2013), won a WNBA All-Star Game MVP Award (2013), and earned two Olympic gold medals (2008, 2012)
In addition to being a basketball superstar, Parker is an analyst and commentator for Turner Sports where she covers NBA games on TNT and NBA TV and for the NCAA men's basketball tournament. She made history in 2023 as the first woman to call an NBA All-Star Game.
BET.com caught up with Parker and spoke about the importance of women in sports media, and her plans to win a third championship with her third different team in the 2023 season.
BET.com: After playing for the majority of your career with the Los Angeles Sparks and playing in your hometown with the Chicago Sky, you took your talents to the Las Vegas Aces. How has the transition been?
Parker: Well, the transition has been great just in terms of being able to figure things out. I think from a nightly basis things are needed at different times because you're playing with so many great players. With the city itself, to be a part of an organization that puts us first puts our needs first is incredible. To have an owner that is super excited along with the team President, the GM, the coaching staff, and the players have been great. I think it's just needed and important, especially in the WNBA for players to be first and foremost. We looking forward to competing for another title.
BET.com: If you were the Commissioner of the WNBA, what is a key change that you would make?
Parker: Besides increasing compensation and better travel accommodations for WNBA players, I think first we have to talk about the visibility of things and how important that is. So one of the changes I would make is to air games on primetime television because when I think of a partnership, it's about uplifting each other.
I think it's important within that TV contract to uplift each other by putting us in the best position to be successful as a network, but also as a league. I think that means having time slots that make sense. It's not by chance that the NCAA Women's Championship this year had the most viewers because it was on ABC for the first time. That makes a huge difference. So for the visibility element, it will have more eyeballs which then creates more partnerships. I think that that's kind of hand in hand.
BET.com: During the WNBA off-season, you've made a seamless transition in sports commentary. Also, you made history as the first woman to call the NBA All-Star game. Did you always aspire to get into sports broadcasting?
Parker: It's something that I've always done. Whether I'm on my couch at home or whatever [Laughs] I was blown away that somebody wanted to have that be my job because with basketball, I don't consider it a job. I get to you know, as Ernie Johnson says, I get to go to work and practice is the same thing. I get to go to work and talk about basketball. I get to be at the All-Star Game sitting courtside, watching the game and breaking it down with one of the best shooters of all time, Reggie Miller, and one of the best play-by-play announcers Brian Anderson. Yes, I have always wanted to play basketball professionally and I think once I started learning more about commentating, I wanted to make that my job and something that I do.
BET.com: In sports media, you are a part of what I would describe as a "golden era" for Black women. There are so many women on different platforms covering sports. Can you speak to the importance of having so many women in sports media today?
Parker: I think it's super important. I'm a big believer in diversity of thought and not just diversity in what you look like and that comes with incorporating other minds. We're seeing the rise of former athletes being a part of commentating and I'd have to say that Turner Sports has played a big role in laying the groundwork for that for having athletes on television, and for people being able to see the game the way they see it. Fans want to do that. So I think we're seeing that in the media with not only Black Women but women in general. We've people like Robin Roberts and Doris Burke and the impact they've had on this new generation. I think it's super, super, super important.
BET.com: Recently, you've partnered with Muscle Milk's The Lifting Project to provide a fitness court to a select city. How did you become involved with the project?
Parker:  It's not only important for kids but for adults to continue to have access to fitness opportunities. That's extremely important for me and Muscle Milk. We as athletes and humans understand the importance of lifting. Lifting is a huge part. It's not by chance that when you get on any Instagram or you see players that are lifting and preparing for the season. With that being said, I think it's also about access. It's not just about sports, it's about living a healthy lifestyle, and there are underserved communities that don't have access to fitness centers.
So to be able to partner with Muscle Milk to create that opportunity for a community to have a full-service fitness court was something I wanted to be a part of. It could be in Los Angeles, Orlando, or Atlanta, so everybody's going to wait and see which city will get the court after voting is done on July 7 and the court will be built this fall. You can go vote by visiting The Lifting Project's website.
BET.com: Lastly, what advice do you have for anyone who wants to lead a more active and healthy lifestyle?
Parker: The hardest thing is to start. In order to build a habit, I think just starting is crucial. Sometimes we make New Year's resolutions in January of all these things you're going to do and you make an entire workout routine when sometimes it's just getting down and doing 10 push-ups and just starting. So I would say that the biggest thing is to start. Once you start you can always add things once you get there. The hardest thing is getting to the gym, and getting to the workout. Once you get there, you're more willing to do more things.