LeBron James Pleads For Change Amid Texas Elementary School Shooting
"When is enough enough," he wrote on his Twitter.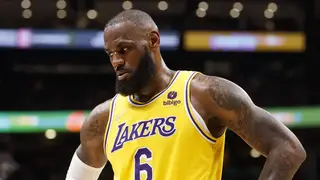 NBA superstar LeBron James has spoken out following the devastating news and tragic school shooting in Uvalde, Texas, that took the lives of 19 students and two adults on Tuesday (May 24).
The Los Angeles Lakers athlete, and father of three, shared his thoughts on Twitter, pleading for change shortly after the news made national headlines.
"My thoughts and prayers goes out to the families of love ones loss & injured at Robb Elementary School in Uvalde, TX! Like when is enough enough man!!!," he wrote in a tweet.
"These are kids and we keep putting them in harms way at school. Like seriously "AT SCHOOL" where it's suppose to be the safest!"
Adding, "There simply has to be change! HAS TO BE!! 😔😔😔😔🥺🥺🥺🥺.. Praying to the heavens above to all with kids these days in schools. 🙏🏾🙏🏾🙏🏾"
BET previously reported that state police identified the alleged shooter as 18-year-old Salvador Ramos, who had been a student at a nearby high school. The suspect shot his grandmother prior to abandoning his vehicle and entered Robb Elementary with a handgun and possibly a rifle, according to Texas Governor Greg Abbott.
In an address to the nation just hours after the shooting, President Biden asked: "When in God's name are we going to stand up to the gun lobby? Why are we willing to live with this carnage? Why do we keep letting this happen?"
At 146 days into the year, the United States has seen 213 mass shootings.