"The Gift And The Curse": Lil Wayne Works So Much That He Can't Remember Rhymes Or Names Of Songs
"I don't know "Tha Carter III", "Tha Carter II," "Tha Carter One" from "Tha Carter IV," he said in a recent interview.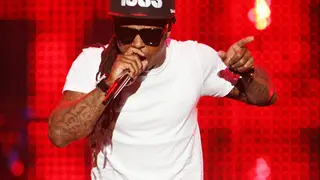 Lil Wayne's fans may remember the lyrics of rhymes of his hit songs, but he doesn't.
The 40-year-old New Orleans hitmaker told Rolling Stone in an interview released Friday that he doesn't recall which of his own songs were part of which of his famous albums. And he was unapologetic, mostly because of his work ethic.
"I work every day, bro — every single day," the "A Milli" rapper told the news site. "And also, I always look at it as the curse part of the gift and the curse."
Part of his work ethic is fueled by what he calls "a great mind" that was gifted to him by his creator.
"I believe that [God] blessed me with this amazing mind, but would not give [me] an amazing memory to remember this amazing s–t," he told Rolling Stone.
Wayne reportedly has a history of health issues, including a longtime battle with epilepsy, which he previously blamed on his work schedule.
"I'm an epileptic, so I'm prone to seizures," Wayne, 33, told Los Angeles radio station Power 106 after a particularly severe attack in 2013. ""This isn't my first, second, third, fourth, fifth, sixth, seventh seizure. I've had a bunch of seizures. Y'all just never hear about it. It got real bad because I got three [seizures] in a row, and on the third one my heart rate went down to, like, 30 percent," he said. "Basically, I could've died soon. That's why it was so serious."