Study: Black Homeownership Trends Higher But Still Below 1980 Level
This stagnation is a main contributor to the racial wealth gap that has persisted since emancipation, researchers say.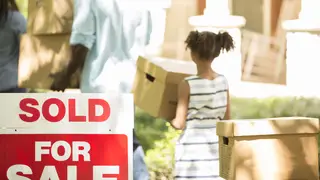 The long-held goal of closing the racial wealth gap through homeownership remains elusive. That's because the Black homeownership rate has remained static for decades.
"The racial wealth gap in the United States has persisted since emancipation, and after narrowing for over a century following the end of slavery, it is widening again today. Homeownership plays a major role. Owning a home has long been considered a reliable path to economic security and generational wealth," the report said.
Indeed, there's a persistent racial disparity in who benefits from homeownership in the United States, according to the U.S. Treasury Department. By the second quarter of 2022, white homeownership was 75 percent compared to 44 percent for Black households.
"Like the overall racial wealth gaps, these gaps in homeownership rates have changed little over the last three decades. In fact, the Black-white gap in homeownership rates was the same in 2020 as it was in 1970, just two years after the passage of the Fair Housing Act of 1968, which sought to end racial discrimination in the housing market," the Treasury Department stated.
Redlining is the discriminatory practice of systematically preventing people from buying homes in certain areas, based on their race, ethnicity or religion. Institutionalized racism in the banking industry also continues to stifle Black homeownership because of a long documented history of discrimination in mortgage lending.
A U.S. Housing and Urban Development report found that the nation's lenders extended subprime loans in predominantly Black neighborhoods five times more than in white communities. In 1998, these high-cost mortgages accounted for 51 percent of loans to Black homeowners compared to just 9 percent to white homeowners.
Research has revealed that predatory lending fueled the 2008 housing crisis, which led to mass foreclosures in predominantly Black communities. The U.S. Justice Department sued lenders for their discriminatory lending practices, which many of them settled rather than admitting guilt. 
For example, Countrywide Financial Corporation agreed in 2011 to pay $335 million to settle a claim that it charged more than 200,000 financially qualified Black and Hispanic borrowers higher fees and interest rates than white borrowers.
Black homeownership rates are highest in southeastern cities like Charleston, S.C., which topped the list with 58.1 percent of Black households owning their properties. Columbia, S.C. ranked second, while the Augusta, Ga. metro area – which includes parts of Georgia and South Carolina, placed third.