Congressional Black Caucus Makes China Connection for HBCU Students
The Chinese government is offering scholarships for Black students to study abroad.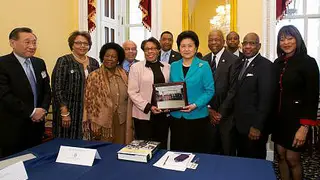 In the past several years, China has become a force to be reckoned with. It is the world's second-largest economy and the largest single holder of U.S. debt. A growing number of American students are choosing to study Chinese and there's actually an organization called Parents of African American Students Studying Chinese.
During a Wednesday meeting with Congressional Black Caucus members, Madame Liu Yandong, vice premier of the People's Republic of China, announced that 400 two-week scholarships would be awarded to students in districts represented by CBC members. The Chinese government also will provide 1,000 scholarships to HBCUs for study in China for periods of three months to two years.
"We hope that our collaboration with the congressional leaders and universities and colleges will go a long way towards people-to-people exchanges between the U.S. and China," Liu said.
The presidents of Howard, Morgan State and Xavier universities and Tougaloo College and National Urban League president Marc Morial also attended the meeting.
In August, a delegation of CBC members and representatives from several HBCUs traveled to Beijing, Shanghai and Hong Kong to discuss educational exchanges and collaborations with Chinese institutions.
"As China continues to experience exponential growth and expansion, it is critical for Members of the CBC to understand how these changes will affect the United States and particularly, the communities we represent," Fudge said after the trip. "Also, as African-American students remain underrepresented in global study abroad programs, I echo former Secretary of State Hillary Clinton's call to double the number of students from Historically Black Colleges and Universities who study abroad in China."
BET National News - Keep up to date with breaking news stories from around the nation, including headlines from the hip hop and entertainment world. Click here to subscribe to our newsletter. 
(Photo: CBC.fudge.house.gov, Morgan State University)