Interview: 2 Chainz Discusses How He'll Forever Be a Businessman
The rapper recently became Krystal's first-ever head of creative marketing, but also runs several of his own businesses.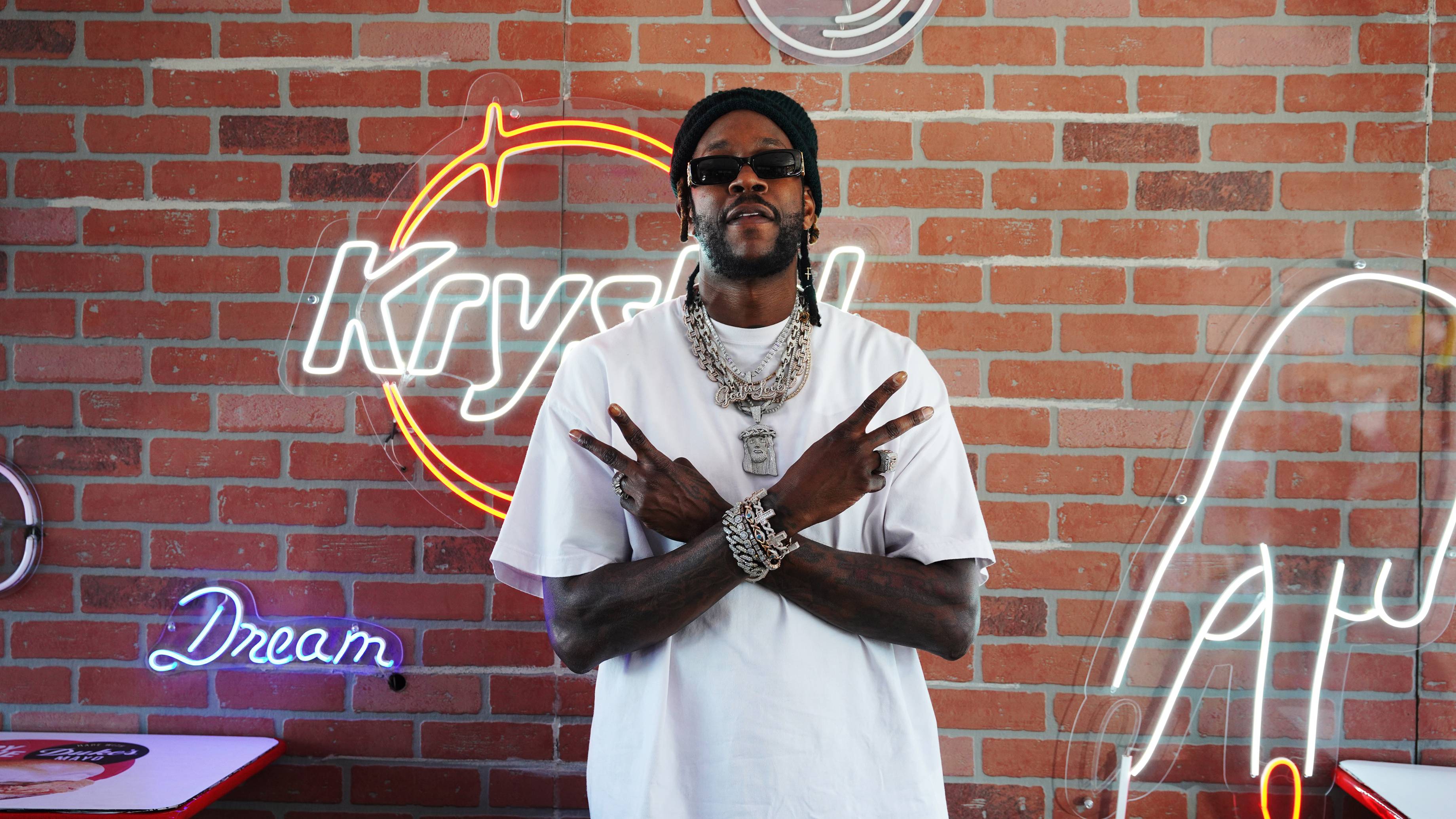 It's been a decade since multiplatinum rapper 2 Chainz made his major label debut with his chart-topping album Based on a T.R.U. Story, and he wants to celebrate it by continuing to expand his business portfolio and use his platform to help others jumpstart their careers.
The "No Lie," "Birthday Song" and "I'm Different" artist was recently named Krystal's first-ever head of creative marketing. Part of the partnership allows the 45-year-old Grammy-winning artist to create brand strategies like redesigning the menu and the location for the burger slider fast food chain that he frequented growing up on the southside of Atlanta.
Along with social media influencer Brittany Renner and singer/actor/entrepreneur Ray J as a brand strategist, 2 Chainz spearheaded Krystal's new edgy Side Chik campaign featuring three assortments of chicken sandwiches. "I do eat chicken sandwiches from time to time, and this was something slacking," 2 Chainz said. "I wanted to have something that was true to myself and something fun to have."
Working with Krystal isn't 2 Chainz's first rodeo in the restaurant industry. The witty College Park, Ga. native-born Tauheed Epps opened Esco Restaurant and Tapas six years ago with his business partner Mychel "Snoop" Dillard. Esco has three standing locations, including a seafood restaurant, throughout metro Atlanta and is starting to franchise in other markets.
The Esco concept is expanding to Columbus, Ohio, and plans to open next in Dallas and Memphis. "I came along not knowing much but knowing that I have a really powerful influence," 2 Chainz said. "Over the years, I've learned about hospitality and what it takes to run a good business. That on my resume made it easier for me to take on the job with Krystal."
Next door to Esco's downtown Atlanta location is Pamper Nail Salon, which the Pretty Girls Like Trap Music artist also owns. The upscale spa offers full treatments like lashes, make-up, and male grooming. Also, the brand ambassador and spokesperson for Buttah Skin products, 2 Chainz, who released his seventh studio album Dope Don't Sell Itself last February, takes pride in using his platform to provide various employment opportunities for marginalized and underserved communities.
"I'm all about self-care, being confident, and leading by example," the artist formerly known as Tity Boi and the alias Hair Weave Killer said, "so opening up these businesses gives opportunities to different people, especially the young Black females in the community. It's a blessing being a blessing to others."
In addition to his business ventures, the rapper is also making his mark on the silver screen. He made his feature film debut this year as a crime kingpin alongside Antonio Banderas and Kate Bosworth in the crime thriller The Enforcer. The former host of Viceland's lavish series Most Expensivist took acting lessons via Zoom: shooting his scenes over two weeks in Greece during the pandemic.
"It was a great experience," 2 Chainz, also the narrator of Snapchat's nature series Planet Rewild, said. "With anything that I take on, I want to maximize on the ability that God gave me, so you will see more of me in upcoming films."
One project 2 Chainz is extremely proud of is Me & Halo, the podcast he co-hosts with his eight-year-old son, Halo Epps. The pair regularly discuss the dynamics of their father-son relationship, giving hot takes on both sports and pop culture.
Also the father of two daughters, Harmony and Heaven Epps, 2 Chainz came up with the podcast idea after seeing a close friend post videos online with his son talking about dating and growing pains. Me & Halo gives the rapper and his son both a platform and chance for them to bond and hopefully set an example for other dads with their children.
"His spirit, timing and the way he asks questions or retains information is not normal for a kid his age," 2 Chainz said. "Other kids can look at a kid their age being mature, and hopefully that can start a wave of more mature, young Black males."
That same year, 2 Chainz, who was once signed under Ludacris' Disturbing the Peace imprint as part of the rap duo Playaz Circle, secured a partnership and joint venture with Atlantic Records for his own record label T.R.U. (The Real University) Records. He released a compilation project, No Face No Case, in 2020 with his acts Skooly, WORL, Hott LockedN and Sleepy Rose.
For 2 Chainz, genuinely investing in ventures across food, beauty, sports and entertainment not only showcases his business acumen but also provides platforms to uplift others and bring a new sense of cool to business and entrepreneurship.
"With me being a part of anything, it's important that I have some type of true alignment or something organic with the business or the strategy," 2 Chainz said. "It's something I just do, and I've been blessed along the way to add value to many things."