Georgia Legislature Is Making An Effort To Replace A Confederate Statue With One Of John Lewis
The bipartisan resolution was proposed by Georgia lawmakers on Wednesday.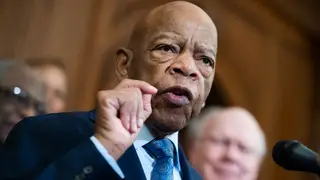 The Georgia State legislature began on Wednesday (January 13) the process of trying to remove a figure of Confederate vice president Alexander Stephens from the National Statuary Hall in the U.S. Capitol and replace it with the likeness of the late U.S. Rep. John Lewis.
According to the Atlanta Journal-Constitution, the effort is a bipartisan one and sponsored by state Rep. Al Williams (D-Midway) and House Speaker David Ralston (R-Blue Ridge), which symbolizes a consensus coalition to replace Stephens, who was a white supremacist, with a civil rights hero.
Williams collected signatures for the resolution Wednesday and is one of many elected Democratic and Republican leaders who endorsed the change shortly after Lewis' funeral last July.
The move would require the approval of Georgia's governor, Brian Kemp, who previously backed the idea and the General Assembly, where the measure is expected to easily pass.
Lewis was a tireless activist for civil rights for over six decades, joining Dr. Martin Luther King Jr. in his fight for voting rights for African Americans when he was in his 20s.
Lewis was also known for chairing and confounding the Student Nonviolent Coordinating Committee (SNCC). He led the march that was halted by police violence on the Edmund Pettus Bridge in Selma, Alabama in 1965, a landmark event in the history of the civil rights movement that later became known as "Bloody Sunday."
John Lewis passed away at 80 years old on July 17, 2020 in Atlanta, Georgia.