This Is What Happens When You Ask Kanye About His Booty
'Ye flipped real quick.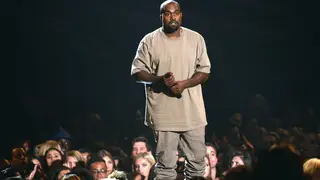 Kanye West has been the topic of headlines for the past couple weeks, all thanks to his Twitter feud with his ex Amber Rose and her ex-husband Wiz Khalifa. With Amber's "booty" comment being what everyone remembered most from the exchange, 'Ye is now being asked about it by the paps, and he's not happy about it.
The rapper was spotted at the airport and one paparazzo asked the burning question: "Hey, Kanye, did she put her fingers up your booty?"
Well, Kanye didn't appreciate that comment too much, so he rushed the cameraman, placed his hand over the lens and screamed, "Don't talk ever again."
Take a look at the video, via The Shade Room, below:
Now you know, folks. This is the one question that is off limits for Mr. West.
If you missed the back story of the beef that started this, BET Breaks will bring you up to speed below:
BET.com is your No. 1 source for Black celebrity news, photos, exclusive videos and all the latest in the world of hip hop and R&B music. 
(Photo: Kevork Djansezian/Getty Images)